South Africa gives rhino poacher 40-year jail term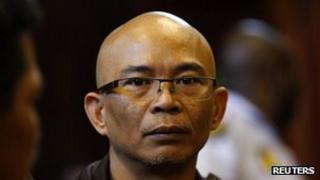 A Thai man has been jailed for 40 years by a court in South Africa for organising illegal rhino poaching expeditions.
Chumlong Lemtongthai had been described by officials as a "leading figure" in international rhino poaching.
The sentence is the longest-ever given for poaching in South Africa and has been welcomed by officials.
Wildlife protection campaigners say the demand for rhino horn is driven by its use in traditional medicine in Asia.
In Vietnam and China many believe that ground rhino horn has medicinal properties - although there is no scientific evidence for this - and horns taken to the Middle East are used to make handles for ornamental daggers.
US Secretary of State Hillary Clinton has announced that the US will do more to tackle the illegal trade in wildlife products, reports the AP news agency.
She told environmental campaigners in Washington that she and President Barack Obama would raise the issue with Asian leaders at a summit next week.
South African magistrate Prince Manyathi ruled that Chumlong Lemtongthai had shown no remorse for his crimes.
Mr Manyathi was also quoted as saying he did not want his children to live in a world where they could only see rhinos in photographs.
Minister of Justice Jeff Radebe said the court's decision was "an appropriate sentence".
It is longer than that given to many murderers in South Africa and is clearly meant as a deterrent, the BBC's Pumza Fihlani in Johannesburg says.
The World Wide Fund for Nature (WWF-SA) welcomed the sentence.
"These higher-level arrests and convictions are critical to disrupting the illegal trade chains used to move rhino horns into illicit markets in Asia," said WWF-SA rhino co-ordinator Jo Shaw in a statement.
Smuggling 'kingpin'
A total of 222 people have been arrested for rhino poaching and related activities since the beginning of 2012 in South Africa, with many of their cases currently before the courts.
A record number of rhinos have been killed this year in South Africa, home to most of the world's wild rhino population.
Chumlong Lemtongthai is believed to be the kingpin of an international rhino horn smuggling ring and is the most prominent smuggler to be convicted since South Africa intensified anti-poaching measures in recent years.
He pleaded guilty to paying people to pose as big game hunters with permits. They were given about $800 (£500) each to go to game farms, take a few shots with small calibre rifles and then pose next to rhinos killed by someone else.
"The hunters were a front for our decision to export rhino horn for trade and not for trophies," he said in a statement to the Johannesburg court.
"I humbly apologise to the court and to the people of South Africa for my role in this matter," he added.
South African authorities currently issue permits to what it terms "bona fide" hunters for trophy hunting. The Department for Environmental Affairs says "a hunting client may only hunt one white rhinoceros within a specific calendar year".