South Sudan expels UN human rights investigator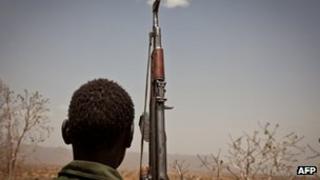 South Sudan has expelled a UN official who was carrying out an investigation into the human rights situation there.
A government spokesman said the investigator had published "unethical" reports which had no truth in them.
United Nations officials condemned the move, saying it violated South Sudan's legal obligations.
The expulsion could be related to a report published in August, they said, which accused the army of torture, rapes, killings and abductions.
Human rights groups have made similar accusations against the country, which only gained independence from Sudan in July last year.
The expelled UN investigator was named by UN sources as Sandra Beidas.
Government spokesman Barnaba Marial Benjamin said the officer had been "reporting on human rights issues that she could not verify and has been publishing without justifications".
"This is unethical," he said, but did not elaborate further.
Hilde Johnson, head of the UN mission in South Sudan (UNMISS), called the expulsion a "breach of the legal obligations of the government of the Republic of South Sudan under the Charter of the United Nations".
She said she had sought an explanation from the government in South Sudan's capital, Juba.
"Human rights monitoring, investigation and reporting, and building capacity, is a core element of the mandate of UNMISS which must be protected," she said.
Last month, Amnesty International published a report accusing South Sudan's security forces of committing "shocking" and widespread acts of violence against civilians that included killings and rapes.
The government responded by playing down the scale of the violations, saying they were isolated cases.