Nigeria army 'abuses' in Boko Haram crackdown - Amnesty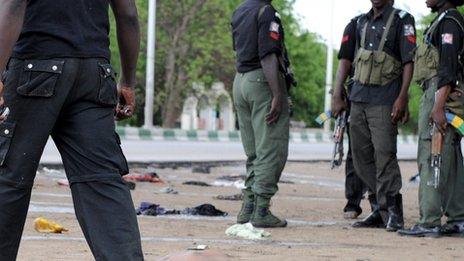 Nigerian security forces have carried out widespread abuses in their campaign against the Islamist militant group Boko Haram, Amnesty International says.
The rights group says in a report that abuses include extrajudicial killings, enforced disappearances and torture.
A spokesman from the Nigerian army rejected the accusations, saying soldiers always operate within the law.
Boko Haram campaigns for an Islamic state and has been blamed for the deaths of hundreds of people this year.
It has carried out frequent attacks in northern and central Nigeria since 2009.
In its report, Amnesty blamed Boko Haram for widespread atrocities, including murder, burning down churches and schools, and attacks against the media.
But it said a heavy-handed response by the security forces had only fuelled further violence.
"The cycle of attack and counter-attack has been marked by unlawful violence on both sides, with devastating consequences for the human rights of those trapped in the middle," said the group's secretary general, Salil Shetty.
"People are living in a climate of fear and insecurity, vulnerable to attack from Boko Haram and facing human rights violations at the hands of the very state security forces which should be protecting them."
Reports of people being shot dead by the army or beaten to death in detention were particularly common in the north-east of the country, Amnesty said.
In response, Nigerian army spokesman Col SK Usman told the BBC that soldiers were professional and properly trained.
"There is no Nigerian soldier that goes out on the streets to just kill innocent Nigerians," he said.
"So whatever we do we always make sure it is done within the ambit of the law."
Nigeria's Finance Minister Ngozi Okonjo-Iweala told the BBC's Focus on Africa programme that the government would never condone human rights abuses, but it should be remembered that the army was trying to curb "terrorist" acts.
"I think you need to look at the circumstances. When the UK was battling terrorism... the US, they had Guantanamo Bay.... all countries, when the security of their citizens is at stake, they try to use all the tools at their disposal," she said.
Ms Okonjo-Iweala added that she objected to suggestions that the security forces acted in a "heavy-handed" way.
"Everyday our security forces are putting their lives on the line to fight this issue [of violence by Boko Haram]."
Amnesty's report documents what it calls an "increasing climate of fear" in which people are too scared to report crimes and journalists do not dare to cover them.
It calls on Nigeria's government to clarify the truth about incidents linked to Boko Haram, establish accountability for abuses and bring those responsible to justice.
Meanwhile, Nigerian Senator Ahmed Zanna has launched a $31m (£19m) defamation suit against the government over claims by the military last month that a Boko Haram commander, Shuaibu Muhammed Bama, had been arrested at his home in the north-eastern city of Maiduguri.
Mr Zanna filed papers in the High Court in the capital, Abuja, saying the claim was false and was intended to discredit him.
It had caused him "mental trauma, shock and embarrassment", he added.
Related Internet Links
The BBC is not responsible for the content of external sites.