Uganda's Media Council bans State of the Nation play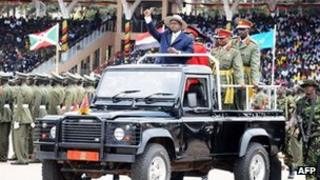 Uganda's authorities have banned a play that criticises President Yoweri Museveni's government, the play's co-director John Ssegawa has said.
He said the Media Council had ordered performances of State of the Nation to be halted until a review was held.
The play highlights alleged corruption and poor governance in Uganda, ruled by Mr Museveni since 1986.
Last month, a UK theatre producer was arrested in Uganda for staging a play about gay people without permission.
David Cecil was released on bail and ordered to surrender his passport.
He was charged with "disobeying lawful orders" for staging The River and the Mountain, a comedy drama about a gay businessman killed by his employees, in the capital, Kampala.
Homosexual acts are illegal in Uganda.
'Money embezzled'
State of the Nation was staged earlier this month at the national theatre in Kampala, but the Media Council has now asked for further performances to be suspended, Mr Ssegawa said.
"It is critical of those in charge as they are the governors of the country and the state of the country is not good," he is quoted by the AFP news agency as saying.
"They [the regulatory body, the Media Council] told us that we cannot go ahead with the play until they have reviewed it."
State of the Nation was produced to coincide with the 50th anniversary of Uganda's independence, which was celebrated on 9 October.
Last week, the Republic of Ireland's government suspended financial aid to the Ugandan government because of alleged fraud.
A draft report by the Ugandan auditor-general found that millions of dollars had been transferred from Primer Minister Amama Mbabazi's office into private accounts.
This included more than $5m (£3.2m) in aid from the Republic of Ireland's government.
It reacted by suspending all aid to the Ugandan government.
The UK's Daily Mail newspaper reports that the UK government had also cut aid, but only to Mr Mbabazi's office.
"We take these allegations extremely seriously... We have set up an independent audit to investigate alleged fraud," the newspaper quotes a spokesman for the Department for International Development as saying.
Mr Mbabazi has denied any wrongdoing and has promised a thorough investigation.
He said Ugandan taxpayers money had also been stolen
"The theft was massive. We regret it," he is quoted by Uganda's state-owned New Vision newspaper as saying.
"We condemn that act in the strongest terms and want to assure everyone that all the necessary measures to bring those responsible to book will be carried out."