Christian life in northern Nigeria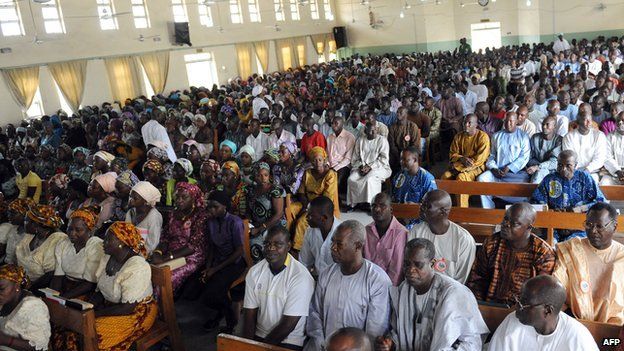 Nigeria's militant Islamist group, Boko Haram, and the security forces have been accused by Amnesty International of committing widespread atrocities in the mainly Muslim north.
Boko Haram, whose name means "Western education is forbidden", is fighting to overthrow the government and create an Islamic state.
On Sunday, a church was bombed, leaving eight people dead in Kaduna, one of the cities affected by the conflict. Although Boko Haram has not said it carried out the attacks, it has claimed responsibility for similar bombings across northern and central Nigeria.
Obadiah Diji, youth leader of the Christian Association of Kaduna, gave the BBC an account of how life has changed in the city.
I have lived in Kaduna city nearly all my life - and I am filled with sadness when I look how sharply divided it has become along religious lines.
Muslims live in areas where there is a Muslim majority; Christians where there is a Christian majority. So, the two groups lead separate lives, with little social contact.
It was not always like this. We once took pride in the fact that Kaduna was cosmopolitan and welcoming of everyone.
Although there were differences, Christians and Muslims lived together. We were in an out of each other's homes. Our children went to the same schools, learning from each other about their respective religions and cultures.
People even married across religious lines - my stepmother became a Muslim and married a Muslim.
My sister also married a Muslim, but remained a Christian.
There are many such marriages in Kaduna. It never caused a problem. There was respect and tolerance - not hatred and violence.
Things changed around the year 2000, when Kaduna was hit, for the first time, by religious conflict attributed to the introduction of Islamic law in the state.
That is when segregated settlements emerged. People fled their homes to escape violence. Christians ended up living in one part of the city; Muslims in another.
I have always been opposed to segregated areas - and that is why I still live, with my wife and four children, in a mainly Muslim area.
But it is true that since Boko Haram started its insurgency, Christians have been living in constant fear.
Many churches now have metal detectors that you have to go through.
Women have been told not to carry hand bags because of the fear that an attacker may come under the guise of a worshipper, hiding a gun or bomb in a hand bag.
So, our religious life has been severely disrupted - along with our social life.
The streets of the city centre are almost deserted at night. People are too scared to go clubbing or to just sit around a table, drinking beer and eating fish.
We now lead secluded lives, staying at home. It is only the police who are on the streets of the city at night.
But the violence has given people spiritual strength.
They draw comfort from the Bible, which teaches us that we will be persecuted just like Jesus was persecuted.
The message that we, in the Christian Association of Kaduna, spread is that most Muslims are good people - and the small number who cause violence should not harm relations between the two communities.
When Muslims celebrated Eid al-Kabir last Friday, we got together with them at a popular roundabout in the city.
A tent was put up and after a ram slaughtered we ate together to strengthen our covenant of unity and peace.
Two days later, a church was bombed - but it will not stop us from reaching out to each other.
We agreed that the roundabout will be named "The peace and reconciliation roundabout" - and we intend to put up a billboard to popularise the name.
The Kaduna state government is also playing its part, establishing "unity schools" in the city to end the segregation we have seen for more than a decade now.
There are a few of them at the moment, but I hope that many more are created.
Both Christian and Muslim children attend these schools - and with them our future lies.
We can only hope that they grow up learning that we can belong to different religions - but we can still live together.
At the moment, even political disputes turn into religious disputes.
To reduce violence in our society, we need to take another look at our political system.
We need to ask: Was Nigeria right to adopt Western-styled democracy?
After all, we did not have such high levels of violence during military rule.
This is not to say that we must give power back to the generals. Instead, we must look at the traditional systems of governance that we had before we were colonised.
Can we learn from those systems and change the way we are governed so that there is less corruption, less poverty and, ultimately, less violence?
Western civilisation has caused us more harm than good.
And today, it is Western government and companies that are the "merchants of death". They - more than anyone else - manufacture and sell the weapons used in conflicts in Nigeria, and elsewhere.