Mali crisis focus for Clinton's Algeria visit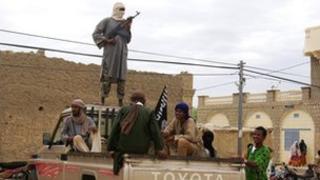 US Secretary of State Hilary Clinton is visiting Algeria to discuss the growing threat posed by militant Islamists in neighbouring Mali, US officials say.
Earlier this month, the UN Security Council adopted a resolution paving the way for an African force to end Islamist control in northern Mali.
Algeria is an important military power in the Sahel region and its backing is seen as crucial in any intervention.
Algerian Islamists are reported to have joined the Malian rebellion.
The trouble began last January after fighters loyal to killed Libyan leader Col Muammar Gaddafi flooded into northern Mali.
Angered by the government's approach to the rebellion, the army led a coup in March - and in the ensuing chaos Islamists and their Tuareg rebel allies took control of the whole of the north.
The Islamists, who are allied to al-Qaeda in the Islamic Maghreb (Aqim) which has its roots in Algeria and is active across the Sahel region, have since fallen out with the Tuareg groups.
'Warming to idea'
A US diplomat travelling with Mrs Clinton said the Malian conflict would be high on the agenda of talks between Ms Clinton and Algeria's President Abdelaziz Bouteflika and Foreign Minister Mourad Medelci.
"There is a strong recognition that Algeria has to be a central part of the solution," a US diplomat travelling with Ms Clinton said, AFP reports.
Algeria had initially expressed strong reservations about plans by the Economic Community of West African States (Ecowas) to send a 3,000-strong force to northern Mali, fearing it could cause more instability in the region.
But Algeria - which has the biggest army in the Sahel region - has since been "warming to the idea" of intervention, another US State Department official is quoted by AFP as saying.
"One of the things that we'll be talking about is... the role that Algeria could play if Ecowas provides the boots on the ground," the official said.
"Then the rest of us have to support that and create the means for it to succeed."
Last week, there were reports of groups of lightly foreign fighters from Algeria and Western Sahara arriving in the northern strongholds of Timbuktu and Gao.
On 12 October, the UN Security Council gave Ecowas and the African Union (AU) a 45-day deadline to submit a detailed and costed plan for intervention in Mali.