Mali crisis: 'Foreign fighters come to help Islamists'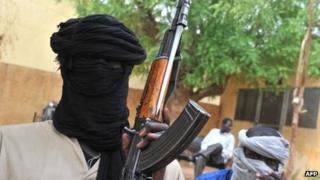 Foreign fighters have arrived in a town in northern Mali, Gao's exiled mayor has told the BBC, confirming reports of an influx of jihadists to the north.
Sadou Diallo said between 60 and 100 Algerians and Sahrawis had come into the town about four or five days ago.
A resident in Timbuktu told the AFP news agency on Monday that Sudanese Islamists had arrived over the weekend.
Plans are under way for military intervention after Islamists took over northern Mali earlier this year.
Two weeks ago, the UN Security Council gave the regional bloc Ecowas 45 days to draw up a plan with the details of its offer to send 3,000 troops to the vast desert region.
The Islamist groups and Tuareg rebels took control of northern Mali following a coup in March.
The junta seized power, accusing the government of failing to deal effectively with a Tuareg rebellion that had started in January - but Islamist groups then took advantage of the chaos and seized all the region's major towns, including the historic city of Timbuktu.
The Islamists, who have since fallen out with their Tuareg allies, have imposed a harsh interpretation of Sharia in the areas they control - there are reports of people being stoned to death and having their limbs amputated.
'Koranic students recruited'
Mr Diallo told the BBC's Focus on Africa programme the foreign fighters were lightly armed and had arrived in Gao on 93 trucks.
"They were identified as coming mainly from Western Sahara and Algeria. They seem to be instructors. They bring small arms with them, not heavy weapons," he said, adding that one or two of the fighters were from Sudan.
"They don't live in the town, they come in during the day, they don't harm the population, they just go about their business and leave at night."
Mr Diallo, Gao's elected mayor who was speaking from the capital, Bamako, said that the Islamist group controlling the town - the Movement for Oneness and Jihad in West Africa (Mujao) - had also recruited 200 students from local Koranic schools.
"There is a radical Muslim sect in surrounding villages and all young people from the Koranic schools in the area have joined Mujao... not because they support the group, but because they've lost hope after seven months of suffering, they're unemployed; they can't resist," he added.
He said Mujao paid them between $300 (about £190) and $400 a month.
Earlier a security official told AFP news agency that hundreds of Sudanese and Sahrawi fighters had arrived in the region.
An resident in Timbuktu told the agency on Monday that "more than 150 Sudanese Islamists arrived in 48 hours".
"They are armed and explained that they had come to help their Muslim brothers against the infidels," the agency quoted him as saying.
Timbuktu is where centuries-old shrines to Islamic saints, revered by Sufi Muslims, have also been destroyed by the Islamists, who consider them idolatrous.
Meanwhile, the UK says it could help to provide training for the West African military intervention.
Stephen O'Brien, the UK special envoy to the region, said after his return from discussions in Mali with the government and its international partners that if the crisis in the north was left unresolved the region could provide a new base for terror networks.
"Al-Qaeda in the [Islamic] Maghreb, which has activities in the area, is growing in both capability and ambition, and if we don't act there is a very real threat of further attacks in Africa, and eventually Europe, the Middle East and beyond," AP news agency quotes him as saying.
German Foreign Minister Guido Westerwelle has pledged similar support and voiced similar concerns.