Nigerian navy detains Russian crew over arms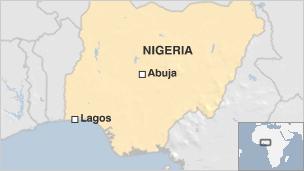 The Nigerian navy has seized a foreign-flagged ship carrying arms and ammunition and arrested its 15 mainly Russian crew members.
The vessel was intercepted over the weekend by patrol boats, a naval official told AFP news agency.
Officials said the boat, belonging to Moscow-based security firm Moran, was carrying rifles and ammunition.
Moran told the BBC the boat had all the required permissions to carry arms and had stopped in Lagos to change crew.
"It was proceeding from one high-risk area to another," Alexey Badikov said.
"The ship was travelling from Madagascar. The final destination was Conakry."
He said officials from the Russian embassy in Lagos had visited the crew members, who were unable to leave the ship, and were working to ensure their release.
But Naval Command spokesman Lt Commander Jerry Omodara told AFP that the MV Myre Seadiver and its crew were being detained for further investigation.
"There is no indication that the vessel was authorised to come into Nigeria and, worse still, to carry arms," he said.
The cargo is said to have included 14 AK-47 rifles and 3,643 rounds of ammunition, as well as 22 Benelli MR1 rifles with 4,955 rounds.
The Nigerian navy says the vessel was travelling under a Dutch flag while Moran says the boat had a Cook Islands flag.
Arms smuggling is a flourishing enterprise in Nigeria, which is battling an Islamist insurgency in the north of the country, and oil thefts and piracy in the south-east.
Related Internet Links
The BBC is not responsible for the content of external sites.