Sudan shelling: 'Children killed' in South Kordofan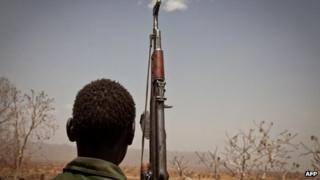 Two children have been killed when rebels shelled Kadugli, the capital of Sudan's oil-rich South Kordofan state, the army has said.
A rebel SPLM-North spokesman told the BBC they were responding to air raids on villages.
It is the second major attack this month on Kadugli, near the border with South Sudan.
The rebels fought against Khartoum in the civil war, but when South Sudan seceded their land remained in Sudan.
South Sudan, which gained independence in July 2011 under a 2005 peace deal that ended decades of conflict, denies backing the rebels.
Since the secession, tension between the new neighbours has been strained, with rebellions breaking out on either side of the border and a dispute over oil which escalated to the brink of war.
However, last month the leaders of both nations signed a deal, mediated by the African Union, to resume oil sales and to set up a demilitarised buffer zone.
'Fleeing town centre'
Army spokesman Al-Sawarmi Khalid told Reuters news agency the rebels had bombed an army garrison outside Kadugli but some shells had landed in the city.
Mr Khalid said eight other civilians had been wounded in Tuesday's attack on Kadugli, which has escaped much of the fighting over the last 16 months.
He said that the army had launched an operation to "cleanse" areas outside the capital of rebels a few days ago, without giving further details.
State media reported that several people had died in a rebel attack on the city earlier this month.
Witnesses told the AFP news agency that the attack began at 09:00 local time (06:00 GMT) - and that people had fled the town centre.
SPLM-North spokesman Arnu Ngutulu Lodi told the agency that rebels were responding to an army offensive "with mortars".
Tens of thousands of people have left their homes, which started just before South Sudan seceded - many of them fleeing south over the border.
Many of the rebel fighters are from the Nuba ethnic group. Sudan has previously denied accusations by human rights activists that its forces have targeted civilian members of the community during the conflict.