Somali women seek a brighter future in Mogadishu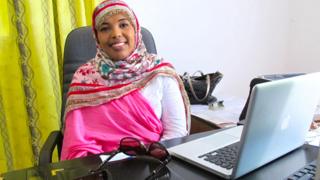 With Somalia's UN-backed government consolidating its hold over the capital, Mogadishu, and other areas from al-Qaeda-linked militants, many women are returning to help rebuild the country, reports the BBC's Kate Forbes.
"Ladies and gentlemen, welcome to this Air Africa flight to Mogadishu," the Kenyan stewardess booms over the plane tannoy.
Absolutely no-one pays any attention, with passengers preferring to root through the overhead lockers or stand talking in the aisles.
The plane is full of familiar accents: British, Canadian and American. Open your eyes and you see it is packed with Somalis, mainly women, going to a "home" they barely know.
'High-flying executives'
Ayan Yussuf, 18, is one of a group of women sitting together dressed alike in black floor-length abayas (cloaks) and hijabs (headscarves).
"Well, when in Rome, do as the Romans," she says.
She admits it is not what she wears in Canada, where she lives.
She is coming to Somalia on holiday - her first visit to the country.
"I want to see what it's like. One day, we might move back," Ms Yussuf says.
Is she scared?
"Yes, definitely! I've got no idea what it's going to be like."
On first sight, not much has changed in Mogadishu since I was here in early 2012. It looks like a country in conflict, and security is still the first priority.
The airport is in a heavily fortified base that is home to the joint African Union (AU) and UN force known as Amisom.
Outside, pick-up trucks full of soldiers, armoured vehicles and teams of civilian guards wait to pass in and out. Across the road, a cafe sits behind an eight-foot wall of sandbags and barbed wire.
But the rest of Mogadishu is ablaze with bustle and renovation.
After a period of stability, Somalis are coming back by the plane-load.
"You can hardly get a seat," one man tell us at Nairobi airport, on his way to Mogadishu.
'Double life'
Among them are many women, who want to play their part in rebuilding a country that has been at war for more than 20 years.
Walking into an office not far from the airport, I spot some perfectly manicured nails tapping away at an expensive laptop.
Next to that lie a designer handbag and some serious-looking files.
Safia Yassin Farah is 34 and her desk is that of a high-flying executive anywhere in the world, except that the view from her office is of high walls, wire and armed guards.
She left the US to take up a post working with young people in Mogadishu, helping them obtain an education and skills.
"I'm here to stay. I've quit my job," Ms Farah says, sounding thrilled and scared at the same time.
"I grew up in the US and got my degree at the University of New Hampshire. I had a job, a house, I had everything."
She says she was motivated to return after hearing about the plight of Somali children caught up in violence, including being recruited by the al-Qaeda affiliate, al-Shabab, which has lost control of Mogadishu and other towns to Amisom and government forces but still controls many rural areas of southern and central Somalia.
"I could see this huge need for education for young people. They need chances, like kids have in the West," Ms Farah adds.
"I just looked around and said to myself: 'I have to do more than this'. I realised I had to go back."
After a month in Mogadishu, top of the list of what she misses is the Starbucks coffee chain.
Ms Farah also worries about some things, like the lack of health care and security but adds: "It's much better than people think."
Attitudes towards women are different from the West, however, as I hear from Maryan Hassan, a 26-year-old law student who was born in the UK.
"Men are traditionally the breadwinners [in Somalia] and the woman's place is in the home," she says.
However, Ms Hassan points out that many of the Somali women returning would have led a "double life" in the West, occupying traditional roles at home while being treated more equally in the workplace.
'Open prison'
"Somalia has changed a lot, though," she adds.
"Twenty years of war meant that women have had to support families as many men died or couldn't work."
One thing that every woman mentions is the security situation. Mogadishu is still dangerous. And because of this, there is a lack of independence.
It is one of the hardest things about moving back, explains Maluka Abulkadir.
A young woman, she gave up a top job in the US with finance company Merrill Lynch to return to Mogadishu.
"The hardest thing is the social life. You are used to going anywhere and doing what you want back home in the States, but here you can't just jump in the car and go down to the store. It's not safe enough," Ms Abdulkadir says.
She smiles in agreement when I tell her that a British-Somali had greeted me that afternoon by asking: "How are you enjoying Mogadishu? We call it the open prison!"
Ms Abdulkadir cannot drive anywhere without armed guards, in part because she works in the prime minister's office.
"We're rebuilding Somalia. For me, it's worth it," she says.
For some women, just being in Somalia can make a difference.
"I tell girls about my own experiences - like getting a degree and how hard I've worked. Sometimes it's the first time they've really thought about whether they could go to university," says Ms Hassan.
"For example, a cousin of mine didn't really know what she was capable of, or I guess entitled to, but inspired by me, she's gone and found herself a scholarship and is doing computer science. So imagine that replicated across the country. It's got to be a good thing."
But to live in Somalia is not so easy for everyone.
On Mogadishu's beach, Samira, 40, paddles in the clear turquoise water.
She watches over some children swimming in the distance, but they are her sister's.
"My kids were born in London and they won't even come here on holiday," she says.
"They've just got no interest. If I want to move back, I'll have to wait until they've grown up."
For now, then, she must stay in London with her family.
"People ask me why I want to go back. They say I'm crazy. I tell them: 'I have to. It's my country.'"