Somali pirate attacks show sharp fall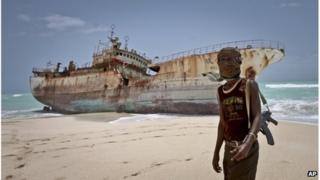 The number of ships attacked by Somali pirates has fallen sharply this year, the International Maritime Bureau says.
Just 70 attacks were reported by ships in the first nine months of this year, compared with 233 incidents in 2011.
International intervention and new security measures are deterring pirates, the IMB adds.
But the organisation warned seafarers to remain vigilant in the waters around Somalia.
Captain Pottengal Mukundan, the director of the IMB, said: "It's good news that hijackings are down, but there can be no room for complacency - these waters are still extremely high-risk and the naval presence must be maintained."
More attacks are being reported in the Gulf of Guinea, where the Nigerian navy has begun patrols. The waters off Benin and Togo are also high-risk areas.
The IMB says the attacks are often planned to steal refined oil products which can be easily sold on the open market.
Though just one attack has been reported off Somalia in the past three months, pirates there are still holding 11 vessels for ransom with 167 crew members as hostages on board.
Twenty-one more kidnapped crew members are being held on land. Some have now been detained for more than 30 months.