Libya clashes in ex-Gaddafi bastion Bani Walid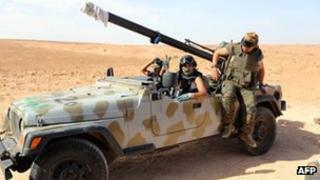 At least 22 people have died in days of fighting in Libya's town of Bani Walid, state news agency Lana says.
It says that some 200 people were injured in the clashes between pro-government militia and gunmen in former leader Muammar Gaddafi's bastion.
Libya's new government has struggled to stamp its authority on a country awash with weapons.
Meanwhile, confusion remains about reports that Moussa Ibrahim, Gaddafi's ex-spokesman, has been captured.
The prime minister's office said on Saturday that government forces had arrested Mr Ibrahim south of Tripoli.
But Nasser al-Manaa, the prime minister's spokesman, later said there was no proof of the capture.
A recording purportedly by Mr Ibrahim later appeared on the internet denying the news.
And on Sunday, Deputy Prime Minister Mustafa Abu Shagur said that the announcement about Mr Ibrahim's arrest had been made without confirmation of the news.
'Revenge' attack
Pro-government militia, many of whom are from the rival town of Misrata, have been shelling Bani Walid for several days.
The government claims that Bani Walid is harbouring a number of Gaddafi loyalists - a claim denied by the militia in the town, about 140km (90 miles) south-east of Tripoli.
In addition, Misrata fighters are reportedly seeking to capture the men who allegedly kidnapped and tortured the man credited with capturing Gaddafi last October.
Omran Ben Shaaban, a fighter from Misrata, died last month after allegedly spending two months in detention in Bani Walid. His death enraged Misrata's militia.
On Sunday, Bani Walid militia leader Abdelkarim Ghomaid said that "the attacks are continuing".
"The shelling is coming from all sides," he was quoted as saying by Reuters.
The fighting comes around the first anniversary of Gaddafi's capture in Sirte, on 20 October 2011. He was later killed near his hometown.
Interim leader Mohammed Magarief has admitted that one year on, the country has not yet been fully liberated.