Argentina orders sailors to evacuate Libertad ship seized by Ghana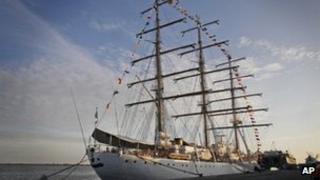 Argentina has ordered over 300 sailors to evacuate the navy training ship which was seized by the Ghanaian authorities earlier this month.
Ghana has held the Libertad since 2 October in a row over Argentine debts.
Argentina's foreign ministry said the captain and some crew will stay on board. It is not clear how the rest will leave Ghana.
Creditors say they will not release the ship until Argentina repays money owed to them from a default in 2001.
NML Capital, a subsidiary of US hedge fund Elliot Capital Management, says Argentina owes it more than $300m (£186m).
Argentina says the crew's rights have been violated after a Ghanaian judge refused to allow the refuelling of the ship to maintain the power supply.
Last week, Argentina replaced navy chief Carlos Alberto Paz and suspended two other senior naval officials over the dispute.
The government is holding an inquiry into who was responsible for allowing the Libertad to stop in Ghana.
Defaulted debts
President Cristina Fernandez de Kirchner's government has demanded the ship's release, saying it cannot legally be held by creditors because of its military nature.
The Libertad - a three-masted tall ship - was detained in the Ghanaian port of Tema on 2 October under a court order obtained by NML Capital.
Sailors from Brazil, Chile, Uruguay, Paraguay, Venezuela, Ecuador, Bolivia and South Africa are reported to be on board.
The firm says Argentina owes it more than $300m (£186m) and it will only release the ship if the country pays it at least $20m.
NML Capital is a subsidiary of US hedge fund Elliot Capital Management, one of Argentina's former creditors.
Argentina defaulted on more than $100bn (£62bn) of debt in 2001 and 2002, the biggest default in history.
Most of these loans were restructured in 2005 and 2010, giving creditors about 30% of their money back.
However, some creditors including Elliot chose to hold out, pursuing the Argentine government through the courts to recover the full amount.