Mali meeting on Islamist crisis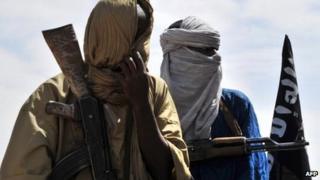 World leaders are meeting in Mali's capital, Bamako, to discuss the crisis in the north of the country, which has been taken over by Islamist forces.
New African Union head Nkosazana Dlamini-Zuma has said resolving the crisis is one of her top priorities.
At a separate meeting in Brussels, the EU said the situation in Mali threatened Europe.
The UN Security Council last week adopted a resolution paving the way for international military intervention.
The regional bloc Ecowas was given 45 days to draw up a plan with the details of its offer to send 3,000 troops to the region.
Former colonial power France is keen to intervene but diplomats say other countries are more cautious.
Representatives from about 20 countries, a number of international organisations and senior officials including the UN the envoy for the region, Romano Prodi, are attending the Bamako meeting.
After their summit in Brussels, the EU leaders said in a statement: "This situation poses an immediate threat to the Sahel region as well as to West and North Africa and to Europe," reports the Reuters news agency.
EU foreign affairs chief Catherine Ashton this week said she feared "terrorists and drug traffickers" could take advantage of the situation.
The Islamist groups and Tuareg rebels took control of northern Mali following a coup in March.
The junta seized power, accusing the government of failing to deal effectively with a Tuareg rebellion that had started in January - but Islamist groups then took advantage of the chaos and seized all the region's major towns, including the historic city of Timbuktu.
The Islamists have imposed a harsh interpretation of Sharia in the areas they control - there are reports of people being stoned to death and having their limbs amputated.
Centuries-old shrines to Islamic saints, revered by Sufi Muslims, have also been destroyed - they are considered idolatrous by the hardline Islamist groups.
The UN has warned that the destruction of the Islamic shrines could amount to war crimes and the International Criminal Court has launched a preliminary inquiry into alleged atrocities in the north.
But BBC Africa analyst Mary Harper says southern Mali also has problems.
The leaders of the military coup officially handed power to an interim civilian administration, but are reported to retain much influence.
Such divided leadership will further complicate efforts to rid the north of Islamist forces, and reunite it with the south, our analyst says.