Libya battle: Gaddafi ex-stronghold Bani Walid shelled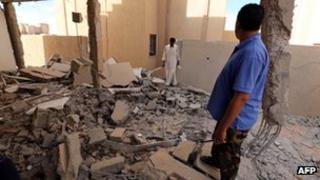 At least five Libyans have died and dozens have been wounded in fighting around Bani Walid - a former stronghold of slain leader Muammar Gaddafi.
Militias allied to Libya's army reportedly shelled the hilltop town from three sides, prompting clashes.
The fighting came after the 50-day kidnap, shooting and torture in the town of one of the men credited with capturing Gaddafi last year.
Omran Ben Shaaban, 22, died from his injuries last month.
Many blamed pro-Gaddafi factions for the abduction, and at Shaaban's funeral last month in his hometown of Misrata, protesters called for the government to avenge his death.
Pro-Gaddafi bastion
Mr Shaaban came to prominence on 20 October last year when he was pictured at the scene as Col Gaddafi was dragged from a drainage pipe where he was hiding in Sirte.
He was abducted in July, reportedly shot and tortured, and only freed following the mediation efforts of Mohamed Magarief, Libya's interim leader and president of the ruling General National Congress (GNC).
But he died of his wounds while undergoing treatment in Paris.
The GNC had said it would take all necessary measures to bring Mr Shaaban's killers to justice.
It reported giving Bani Walid a deadline to hand them over and government-allied militias put the town effectively under siege for a number of weeks.
Wednesday's attack came a year after former rebels declared the liberation of the town, south-east of the capital Tripoli - Bani Walid was one of Libya's last pro-Gaddafi bastions to surrender.