Malawi 'refers lake border dispute with Tanzania to AU'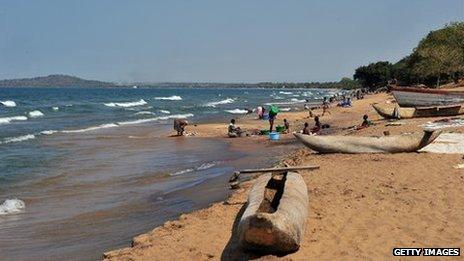 Malawi's President Joyce Banda has asked the African Union to intervene in the country's border dispute with Tanzania, state media has reported.
The southern African nation broke off talks with Tanzania earlier this month over the border on Lake Malawi, which is potentially rich in oil and gas.
Malawi disputes Tanzania's claim to half the lake - Africa's third biggest.
It has accused Tanzania of raising tension by allegedly intimidating Malawian fishermen on the lake.
Last year, Malawi awarded oil exploration licences to UK-based Surestream Petroleum to search for oil in the lake, which Tanzania calls Lake Nyasa.
In July, Tanzania asked the company to postpone any planned drilling.
Mrs Banda asked the AU to help resolve the dispute in talks with its chairman, Benin's President Yayi Boni, the Malawi Broadcasting Corporation reports.
After Malawi withdrew from the talks with Tanzania, Mrs Banda said she would refer the dispute to the International Court of Justice for a ruling.
The neighbours have disagreed over their border since independence, but tension escalated last year amid reports that the lake had vast oil and gas reserves.
Meanwhile, Malawi's Information Minister, Moses Kunkuyu, said the government would not tolerate journalists who used their freedom without exercising "responsibility".
He was reacting to the arrest of of a journalist who reported that Tanzania's ambassador to Malawi, Patrick Tsere, had been expelled because of the border dispute.
The government dismissed the report as a fabrication.
Related Internet Links
The BBC is not responsible for the content of external sites.