Kenya policemen seriously injured in grenade attack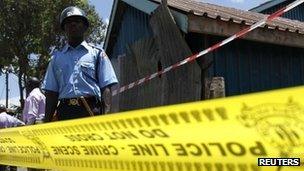 At least 10 Kenyan policemen have been seriously injured in a grenade attack.
The officers were searching a house in Coast state near Mombasa, where they found weapons including an AK-47 rifle and two grenades.
A police spokesperson said Somalia-based Islamists al-Shabab may have been behind the incident.
Kenya has been hit by a series of grenade and gun attacks since it sent troops into Somalia to help fight the al-Qaeda-linked group last year.
Aggrey Adoli, the head of police for Coast province, told reporters that three suspects were also killed in the exchange of fire following the attack.
Suspected al-Shabab supporters have carried out a number of attacks over the past year in the Coast region, a popular tourist destination.
Kenyan troops have been fighting against the group alongside their Somali counterparts under the banner of African Union forces since October 2011.
At the end of last month they took al-Shabab's last Somali stronghold, the strategic port city of Kismayu.