South Africa rhino poaching: More killed than ever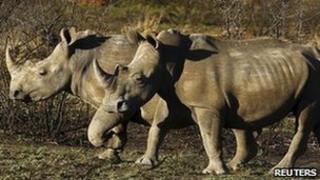 Poachers have already killed a record number of rhinos in South Africa this year, with 455 slaughtered so far, the government has said.
Only 13 rhinos were killed in 2007 but this rose sharply to 448 in 2011 - more than in any previous year.
Poaching is being driven by the soaring price of rhino horn, which is used in traditional medicine in Asian countries such as China and Vietnam.
South Africa has about 20,000 rhinos, or 90% of all the rhinos in Africa.
Most of the rhinos - 272 of the 455 - were killed in the world-famous Kruger National Park, the government's environmental affairs department said.
Efforts to curb poaching were continuing, with 207 people arrested so far this year, it added.
'More expensive than gold'
The South African government deployed troops along the country's borders earlier this year in an attempt to stamp out the illegal trade.
The Endangered Wildlife Trust said it was shocked that the number of rhinos being killed was continuing to rise, AFP news agency reports.
"We're sitting at 455 with the two worst months to go and if you consider the growth rate is 6% a year, we're getting close to tipping point. That means when your deaths exceed your births, so the species starts to go into decline," the group's rhino project project manager, Kirsty Brebner, said.
The killing of rhinos has soared in recent years to meet the demand for their horns in Asian traditional medicine, especially in China and Vietnam, where they are thought to have powerful healing properties.
But scientists say rhino horns are made from the same material as fingernails and have no proven medicinal properties.
The black market price of rhino horn is now in the region of $65,000 (£40,000) per kg - more than gold.
South Africa has become the focal point of the rhino trade because it has between 70% and 80% of the global population of rhinos.