Tripoli prison suffers mass breakout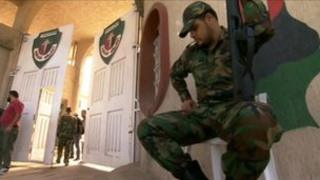 More than 100 inmates have escaped from the al-Judaida prison in the Libyan capital, Tripoli.
The prisoners are said to be of various nationalities and officials say about 60 have so far been recaptured. It is not clear how the breakout happened.
Al-Judaida is one of Tripoli's largest jails. Human rights groups accuse officials of abusing inmates.
The mass escape comes less than a week before the first anniversary of Col Muammar Gaddafi's death.
The head of Libya's national guard, Khaled al-Sharif, told the BBC that out of the 120 inmates that escaped at least half have so far been captured.
He said that some were illegal African migrants imprisoned for immigration violations and others were Libyans with criminal convictions.
Circumstances surrounding the prison break are unclear and officials say an investigation is under way.
The national guard says it has set up checkpoints in the area to try to hunt down the escaped prisoners.
Libyan jails are currently under the control of an array of different military councils and brigades.
The BBC's Rana Jawad in Tripoli says prisons in the capital fall under the authority of the justice ministry and are guarded, in theory, by the ministry's police force.
However, Libya still lacks a comprehensive and organised public security force following the conflict last year, she adds.
Earlier this year an attempted breakout from another prison in the capital saw parts of that facility burned down.
Amnesty International described "widespread" abuses at the al-Judaida after the ousting of Col Gaddafi.
The former Libyan leader was killed after being captured in his birthplace of Sirte on 20 October last year.