Twin blasts shake Kenyan capital Nairobi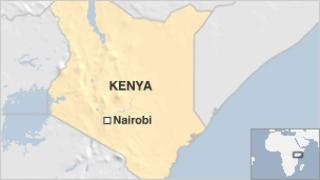 Two blasts have shaken the Kenyan capital, Nairobi, wounding at least one police officer.
The blasts struck the Eastleigh residential district, near the city's business district, late on Friday.
Police sources said the area targeted had a predominantly Somali population.
A string of attacks in Nairobi and Mombasa have been blamed on Somali militants, in retaliation for Kenya's decision to send troops into Somalia to pursue militants.
The latest blast happened 100m (yards) from a church on Nairobi's Juja Road, where an explosion on 30 September killed a nine-year-old child.
"We believe the first blast was intended to lure onlookers, members of the public, and that the second blast was meant to harm them," police spokesman Eric Kiraithe told Reuters.
"It is not immediately clear what caused the explosions, the bomb squad is on its way there," Wilfred Mbithi, an assistant police commissioner, told the news agency.
Kenya began its intervention in Somalia nearly a year ago after a spate of cross-border attacks blamed on al-Shabab.
Kenyan forces ousted the rebels from their last Somalia stronghold, Kismayo, last month.