Ghana court refuses to free Argentine warship Libertad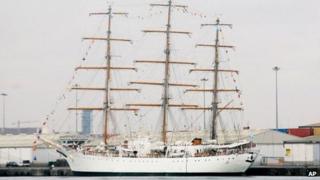 A Ghanaian court has refused to free an Argentine warship seized in a debt dispute involving the South American nation's creditors.
The Libertad, a training ship on a tour of Africa, was detained at the request of NML Capital, which is suing Buenos Aires for defaulting on its loans.
Argentina condemned it as a "vulture funds' stunt" and lawyers argued as a military vessel it enjoyed immunity.
But the judge said Argentina had waived immunity as part of its loan deal.
The BBC's Akwasi Sarpong in Ghana's capital, Accra, says lawyers acting for the Argentine vessel also put in a plea for the warship to be allowed to refuel to keep the vessel's engines running and to service the crew.
The judge asked lawyers for both sides to come to an agreement on that request, he says.
NML Capital is a subsidiary of US hedge fund Elliot Capital Management, one of Argentina's former creditors.
Argentina defaulted on more than $100bn (£62bn) of debt in 2001 and 2002, the biggest default in history. The majority of these loans were restructured in 2005 and 2010, giving creditors around 30% of their money back.
Some creditors including Elliot chose to hold out, pursuing the Argentine government through the courts in order to recover the full amount.