Julius Malema anger at South Africa Limpopo tender report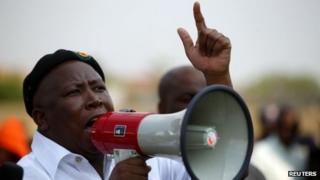 South African politician Julius Malema has reacted angrily to an official report into allegations of fraud involving a company he co-owns.
He said that Public Protector Thuli Madonsela's investigation into the awarding of a government tender to the firm found him "guilty in absentia".
Ms Madonsela said legal proceedings should be taken against the firm.
Last month, Mr Malema denied charges of money-laundering linked to the awarding of government contracts.
The firebrand politician, who has been expelled from the government African Nation Congress for sowing divisions in the party, said the case was politically motivated.
'Maladministration'
In her report, On the Point of Tenders, Ms Madonsela said tenders for goods and serviced awarded to On-Point Engineering by the Department of Roads and Transport in Limpopo Province, where Mr Malema comes from, were unlawful.
She said that Mr Malema and his business partner "benefited improperly from the unlawful, fraudulent and corrupt conduct of On-Point and maladministration of the department [of transport]".
The 174-page report said that On-Point Engineering won a 51m rand ($5.8m, £3.6m) tender in 2009 despite the fact that it had "existed for approximately one month, had no employees, no assets or annual turnover". Fifteen other bids were disqualified.
There was also evidence to show that On-Point received double payments from the transport department and other service providers for doing the same job, it said.
But in response to the findings Mr Malema said that those "who respect the law must treat all equally".
"You can't tell a man in absentia: 'You are guilty and we will take everything you have,'" the South African Broadcasting Corporation quoted him as saying.
Ms Madonsela called for the suspension of the agreement between the Limpopo's transport department and On-Point Engineering and for disciplinary steps to be taken against officials and money recovered.
The state attorney should also "institute legal proceedings against On-Point and its shareholders that benefited from the awarding of the tender, in order to recover any amount to which the department is entitled to", the report recommended.
Ms Madonsela said that she reserved judgement about whether the awarding of the tender was corrupt as South Africa's elite Hawks unit was investigating these claims.
The former ANC Youth League leader is well-known in South Africa for his fiery populist rhetoric and lavish lifestyle, describing himself as an economic freedom fighter.
He is a fierce critic of his former ally, Jacob Zuma, recently attacking the president over his handling of the Marikana miners' strikes.
Mr Malema is also the subject of a separate tax investigation.