Profile: Libyan leader Mohamed Magariaf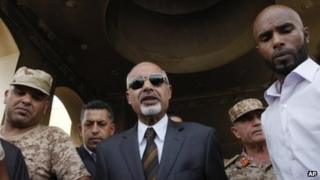 Mohamed Magariaf cuts a distinctive figure with his neatly-trimmed silver goatee and trademark sharp suits.
His friendly manner and off-the-record chats have made him popular with journalists - and many say he is "really cool… and quite liberal".
Outside media circles, those who know the chairman of the General National Congress describe him as a man of unwavering principles.
But for many Libyans, their interim leader is a mystery; he went into exile in 1980 and only returned after the fall of Colonel Muammar Gaddafi's regime in 2011.
Published author
Mr Magariaf is a prolific reader and writer - and over the years he has published several books on Libyan politics, history and economics.
He also enjoys watching films.
Perhaps unusually for a Libyan man, he never learned to drive - but he also never let that stop him from commenting on other people's driving, according to Asma, one of his six daughters.
"My mum would drive him around - and it was funny to see them together with him commenting on how fast or slow she's driving," she recounts.
Old family friends remember an industrious young Magariaf, dedicated to his family.
While at secondary school in Benghazi - where he was born in 1940 - he worked part-time at an accounting firm to help support 11 siblings.
He finished school in 1958, reportedly scoring the highest marks in the whole of what was then the Kingdom of Libya.
He went to the UK on a government scholarship before returning to Libya to work as an economics professor at the university in Benghazi.
Between 1972 and 1977, he was in charge of the government accounting office - a job that held the rank of minister and meant he had oversight of the coffers under Col Gaddafi.
Failed assassinations
In 1978, he was posted to India as the ambassador - because, his family says, he had become becoming increasingly outspoken about the government corruption he had witnessed.
Two years into the job, Mr Magariaf defected to first Morocco then Egypt before settling in Georgia, US.
He co-founded and served for two decades as the secretary-general for the National Front for the Salvation of Libya (NFSL), the opposition group made famous by its failed assassination attempt on Col Gaddafi in 1984.
Mr Magariaf himself has survived several assassination attempts.
Mr Magariaf resigned as head of the NFSL when he was named leader of the General National Congress.
Over the years, Mr Magariaf's family have paid a heavy price for his anti-Gaddafi stance; one of his sisters was imprisoned for three years and his brothers for eight.
His political activities also meant that he was in and out of the lives of his seven children.
Asma says she has asked him several times whether he regretted joining the opposition.
"He is always emphatic about it being the most difficult decision he made in his life, to risk his life and that of his family," she says.
"But after that he made peace with it and then he felt there was no fear, no hesitation and no going back."
Religious controversy
In August, a month after Libya's first elections since the overthrow of Col Gaddafi, Mr Magariaf was voted as the leader of Libya's 200-member General National Assembly.
He was labelled a "moderate Islamist" - no doubt because of his ties to the NFSL, which in the 1980s was known as a militant Islamist group.
But he is "far from that", says Asma, explaining "he is deeply spiritual but also deeply committed to the idea that one's relationship with God is very personal".
"His preference - and, of course, this is something that will be up to debate within the constitutional committee - is that he supports secularism."
"He always feels that if you don't have that separation, there is room for abuse and we can't take that chance again."
But that preference, which Mr Magariaf spoke about in an Arab newspaper, has sparked controversy - and prompted a walkout by some assembly members, including those who felt his words meant he had already decided Libya's future form of governance.
His response was an immediate public apology - and a partial retraction.
"It is obvious that our reality has no room for secularism or theocracy," he said, but added, "and it has no room for men of religion with absolute powers."
Mr Magariaf will serve as Libya's interim head of state until fresh elections are held in 2013, following the drafting of a new constitution.