Libya trial for Saif al-Islam Gaddafi 'would damage ICC'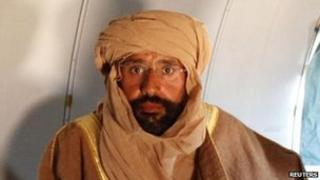 The defence lawyer for Col Muammar Gaddafi's son, Saif al-Islam, has told the International Criminal Court its reputation would be harmed by a trial inside Libya.
Melinda Taylor told an ICC public hearing there was no doubt he would be hanged if found guilty.
Libyan officials want Saif Gaddafi, who is accused of war crimes, to face justice in his homeland.
Ms Taylor said such a trial would be motivated by revenge, not justice.
Mr Gaddafi has been held in the mountain town of Zintan since being captured by Zintani rebels almost a year ago.
Libyan authorities have repeatedly refused to hand him over to the ICC for trial in The Hague.
'Guinea pig'
The ICC, based in the Netherlands, is holding its first hearing on the case.
Ms Taylor, who is court-appointed, argued a Libya trial would mean death for her client.
"Although the Libyan government has danced around the issue, let's be very clear: if convicted Mr Gaddafi will be hanged," she told the hearing.
"This trial is not motivated by a desire for justice but a desire for revenge, and there is no right to revenge under international law," she said.
"Mr Gaddafi is not a guinea pig [for Libyan justice]. He is a person with rights. He should not be languishing in prison while Libya tries to build a judicial system."
At the opening of the hearing on Tuesday, Libyan lawyer Ahmed al-Jehani told the ICC judges that Libyan authorities "needed time" to organise a fair trial for Mr Gaddafi, and that they had not ruled out some level of ICC involvement.
But Ms Taylor suggested that a trial in Libya would be rigged to secure a conviction, and that the ICC risked harming its reputation.
"How can the ICC achieve lasting respect for international law... if it cedes jurisdiction to a domestic court which has been organised to convict rather than achieve justice?"