Steve Biko South Africa archive published by Google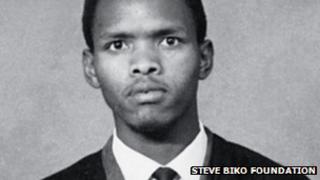 Thirty-five years after the death in police custody of Steve Biko, an online archive about the South African anti-apartheid activist has been published.
It features documents never seen before in public, including his 1973 banning order restricting his activities.
Curated by the Steve Biko Foundation, the archive is part of 42 historical exhibitions published by Google.
They aim to narrate major events of the last century, including apartheid, D-Day and the Holocaust.
Google says each exhibition in its Cultural Institute initiative has links to archive material to give different perspectives on the events.
"First-hand testimonials, photographs or manuscripts - many times these things are not accessible because they're either held within vaults or people can't travel thousands of miles to get to them," Mark Yoshitake of Google's Cultural Institute said.
"The aim of the Cultural Institute is to preserve and promote culture online and make it accessible to the world," he said.
Image banned
The Steve Biko archive goes back to his childhood and shows his political awakening as a 15 year old.
He went on to become a medical student at the University of Natal when he founded the Black Consciousness Movement aimed at empowering and mobilising the urban black population.
Seen as a martyr in the anti-apartheid struggle, he died at the age of 30 of major head injuries on 12 September 1977 after spending nearly a month in police custody.
His death caused outrage in South Africa and was the subject of the Hollywood film Cry Freedom.
"Steve Biko was a banned person - he was not allowed to be quoted, he couldn't publish anything, his image could not be printed in the newspaper," Obenewa Amponsah of the Steve Biko Foundation said.
"He didn't really take no for an answer, he always questioned the why behind the way things happened," she said.
Ms Amponsah says the Google Cultural Institute initiative has allowed the foundation to make material in Johannesburg stored in books and boxes available to the world.
Steve Biko's school certificates, covers of the newsletters produced by South African Students' Organisation which he helped found, and his Black People's Convention membership card are among documents not released before in the public domain.
"This platform has really helped to bring the material to life in a way we hadn't had an opportunity to do before," Ms Amponsah said.