Libya PM Shagur submits 'emergency government' line-up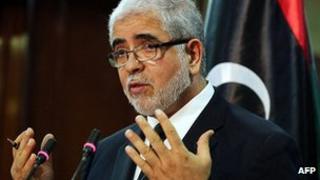 Libya's prime minister-elect has put forward an emergency cabinet list, days after his first government line-up failed to win parliamentary approval.
Mustafa Abu Shagur has outlined plans for just 10 ministries, as opposed to the 29 he offered last week.
If he fails to win the support of the national assembly, he must stand down.
The General National Congress (GNC) was elected in July in Libya's first free elections in decades, following the overthrow of Col Muammar Gaddafi.
The 200-member assembly will have three to four weeks to elect a new prime minister, if Mr Shagur's revised offer is rejected.
'Political games'
The BBC's Rana Jawad in Tripoli says Mr Shagur's latest announcement was unprecedented, but appears to have been a crowd-pleaser, and gets to the heart of what Libyans have been demanding recently.
The prime minister said it was a proposal to lead Libya with no regionalism.
"In face of the dangers threatening the country, I present to you a crisis government restricted to 10 ministers, rejecting all geographical considerations," he told the GNC.
But he warned the assembly that he would "not assume responsibility for a team that is not of my own liking", and he called on the GNC to "assume its responsibilities at this historic time".
His initial cabinet line-up was rejected late on Thursday on the basis that it was not representative of important regions and lacked qualified members.
During the debate, protesters - mostly from the towns of Zawiya and Zuwara - stormed the Congress building in the capital Tripoli, calling for his resignation.
Mr Shagur had initially aimed for a unity government and what he described as "people with merit" to work with him.
However, he said that when he consulted with political parties, some pursued their own agendas. Without naming them, he said one party had demanded 11 seats, and another had asked for nine.
Mr Shagur said he would not give in to pressure and political games.
"I will not abandon my principles and my convictions. I did not return to Libya [from years in exile] to become head of government, I came back to serve the country and its children," he said.