Tunisia police hurt in clashes over rubbish dump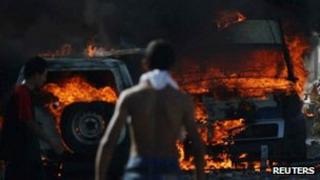 More than 50 people, mostly policemen, have been injured in protests over the reopening of a rubbish dump on the Tunisian holiday island of Djerba.
Interior ministry spokesman Khaled Tarrouche said police were pelted with rocks and firebombs in Guellala.
Several police cars were also set alight before the crowd was dispersed with tear gas.
Residents had been promised that the unofficial dump would remain closed, local media said.
Mr Tarrouche said trouble flared when authorities in Guellala decided to reopen the dump until 2013.
On Saturday morning about 40 protesters blocked the site and after talks with officials failed, security forces fired tear gas to disperse them, he said.
However, during the afternoon, a larger crowd formed in the centre of Guellala and attacked police, he added.
Discontent
"A large number of protesters in the centre of Guellala attacked a police post with rocks and petrol bombs," Mr Tarrouche said.
He said 49 police and two demonstrators were injured.
Mr Tarrouche said six police vehicles had been burned but no arrests were made.
He said reinforcements were sent from the capital Tunis and that by early evening calm had returned.
Guellala is a town of about 13,000 people in southern Djerba, a popular tourist destination.
Local people have recently been in talks with authorities about what to do with the unofficial dump and a decision had been made on 4 October to close it, according to local media.
Correspondents say protests in Tunisia have multiplied recently amid rising discontent over poor living conditions, rising unemployment, water cuts and the state's failure to collect rubbish, as well as other grievances.
Tunisia's economy has continued to struggle since the uprising in January 2011 put an end to the 24-year-rule of President Zine El Abidine Ben Ali.
Elections in October 2011 were won by the moderate Islamist Ennahda party which later formed a power-sharing government with other parties.