South Africa mine clashes: Man killed in Amplats unrest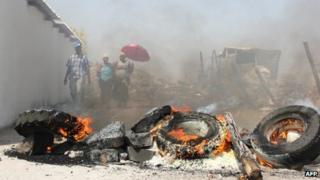 A man has been killed during clashes between striking miners and police at a mine in South Africa's platinum belt, police say.
Spokesman Thulani Ngubane denied accusations that the man had been shot by the police during unrest at an Anglo American-owned mine.
This is the latest unrest in South Africa's mines - 34 miners were shot dead by police in August.
The country is one of the world's major producer of precious metals.
Workers' activist Gaddhafi Mdoda told the AFP news agency that the dead man had been shot by police.
But Brigadier Ngubane told the BBC's Newsday programme the death had nothing to with the police action to disperse about 200 protesters near Rustenburg, 100km (60 miles) north-west of Johannesburg.
He told AFP that the body had been recovered and an investigation started.
The hill where the clashes occurred is littered with empty tear gas canisters and shell casings, which the workers said had contained rubber bullets fired by police, Reuters news agency reports.
Some 28,000 workers have been on an unofficial strike for three weeks at the Anglo American Platinum (Amplats) mine to demand higher wages, AFP reports.
Amplats is the world's biggest platinum producer.
The workers at the Marikana platinum mine where 34 people were shot dead returned to work after receiving pay rises far higher than the rate of inflation.
A commission of inquiry into the deaths began earlier this week.
As well as the 34, 10 other people, including two police officers, were also killed.
Thousands of gold miners and truck drivers are also on strike in South Africa.
On Tuesday, one of the country's leading gold mines, Gold Fields, evicted 5,000 striking employees from company dormitories, saying they were intimidating fellow workers.