Libyan government line-up suffers setback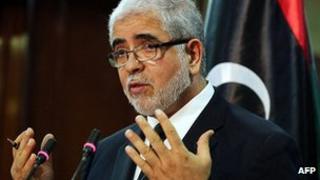 Libya's Prime Minister-elect Mustafa Abu Shagur has suffered a setback after his proposed cabinet failed to get parliamentary approval.
Mr Shagur is reported to have said he had withdrawn the list of nominees, but some officials said it had been rejected by the national assembly.
Mr Shagur is now expected to deliver a new list on Sunday.
Earlier, protesters entered parliament saying that the proposed line-up was not representative of the new Libya.
The demonstrators were mostly from the towns of Zawiya and Zuwara.
The 200-member national assembly was elected in July in Libya's first free elections in decades following the overthrow of Col Muammar Gaddafi.
Mr Shagur had submitted his list of proposed ministers on Thursday.
Abdelali al-Dersi, who represents the eastern town of al-Bayda in the assembly, was quoted by AFP news agency as saying that the list had been rejected after a vote.
"We voted to reject the government proposed by Abu Shagur and to grant him until Sunday to present a new line-up," he said.
"The government didn't represent all the sectors or regions of Libyan society. It was thrown together arbitrarily and on the basis of friendships."