Darfur ambush kills four peacekeepers in Sudan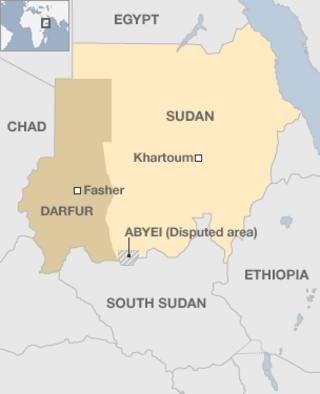 Four peacekeepers have been killed and eight wounded in an ambush in Sudan's western Darfur region, according to the joint UN-African Union mission Unamid.
The troops, who were from Nigeria, were attacked about 2km (1.5 miles) from mission headquarters in the town of Geneina, Unamid said.
Their convoy came under fire from several directions, a spokesman said.
More than 16,000 Unamid troops are currently based in Darfur, tasked with protecting civilians since 2007.
The ambush happened on Tuesday night, Unamid said. It urged Sudan's government to prosecute the gunmen.
Some 78 Unamid troops have been killed in Darfur since its mandate started five years ago.
Tensions
Violence in Darfur has come down from its peak after civil war broke out in 2003, but there are still clashes between government forces, rebels and rival ethnic groups.
But tensions have again escalated since South Sudan seceded and broke off from the north last year.
Armed robbers and bandits are also at large in western Darfur, taking advantage of the area's lack of security.
Last month dozens of people were reportedly left dead after Sudanese forces clashed with Darfur rebels.
Sudan's government accuses South Sudan of supporting anti-government rebels in Darfur - charges it denies.
Last year Sudan's President Omar al-Bashir signed a peace agreement with a group of small rebel factions, but the larger opposition groups have refused to be part of the deal.
President Bashir and other Sudanese officials are wanted by the International Criminal Court (ICC) for war crimes and crimes against humanity related to the war in Darfur.
They deny the charges, saying the scale of the suffering in Darfur has been exaggerated for political reasons.