Ivory Coast pro-Laurent Gbagbo General Dogbo Ble on trial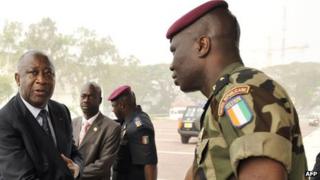 A key ally of Ivory Coast's former President Laurent Gbagbo has gone on trial in Abidjan, in the first case of those accused over the 2010-11 post-election violence.
General Dogbo Ble was the commander of the Republican Guard under Mr Gbagbo.
He and seven other security officials are accused of murdering a colonel during the six-month crisis.
Mr Gbagbo is awaiting trial at the International Criminal Court. He denies charges of crimes against humanity.
Ivory Coast has recently accused Gbagbo loyalists based in neighbouring Ghana of carrying out cross-border raids to destabilise the government of President Alassane Ouattara.
The BBC's John James in Abidjan says that Gen Ble, who is from the same ethnic group as Mr Gbagbo, became the dominant military commander during the 2011 battle for control of Ivory Coast's main city, operating from a well-fortified base at the presidential palace.
He was one of the few generals not to switch allegiance to President Ouattara as the fighting came to a close.
Human rights activists have welcomed his trial but warn that it must appear to be fair otherwise it could further heighten political tensions in Ivory Coast.
Gen Ble has not yet entered a plea in the military court. Three of the accused are being tried in absentia.
Bullet-riddled body
Colonel-Major Adama Dosso disappeared on 12 March 2011, at the height of the post-election crisis.
Prosecutors say he was kidnapped and then taken to the Republican Guard base, where he was allegedly interrogated by Gen Ble.
Col Dosso's body was later found, riddled with bullets, in a grave near the country's main highway.
There had been speculation that Col Dosso was about to pledge allegiance to Mr Ouattara.
On Monday, Mr Gbagbo's former spokesman Justin Kone Katinan was charged with murder linked to the post-election violence by the Ghanaian authorities, paving the way for his extradition.
Gen Ble was also charged in a separate case on Monday by a military court - over the 2002 killing of former coup leader Gen Robert Guei, a bitter rival of Mr Gbagbo.
Mr Gbagbo was arrested in April 2011 by pro-Ouattara forces backed up by UN and French troops.