South Sudan violence hits MSF aid near Pibor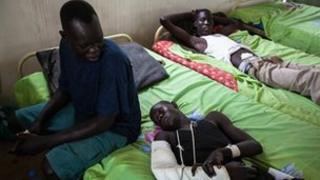 The medical charity Medecins Sans Frontieres has suspended some services near the remote South Sudanese town of Pibor, amid escalating violence.
Its locally recruited staff and other residents of the towns of Lekwongole and Gumuruk have fled into the bush.
The UN has told the BBC it is monitoring the situation closely.
BBC World Service Africa editor Martin Plaut says the threat appears to come from a local rebel leader, David Yau Yau.
He has attracted support from youths of the Murle tribe. The Murle are reported to be angered by the activities of South Sudanese troops stationed in the area, who are mainly drawn from the rival Nuer ethnic group.
The soldiers, who are in the area to disarm rival groups, are said to have beaten and raped some local people.
The United Nations Special Representative for South Sudan, Hilde Johnson, said she was monitoring the situation closely and had contingency plans to increase the UN military presence in the town.
The UN currently has around 80 peacekeepers in the area.
MSF says it has suspended medical services in the two affected towns, leaving some 90,000 people without medical aid.
The MSF service in Pibor itself remains open, but the group fears that this too may have to be suspended. All international staff have been evacuated from the area.
Air drops
In August at least 24 South Sudanese soldiers were killed in an ambush by rebel fighters, which an army spokesman blamed on Mr Yau Yau's rebels.
Col Philip Aguer said a convoy of 200 soldiers was attacked after being sent to the area, close to the Ethiopian border, to investigate reported sighting of Mr Yau Yau's fighters.
Concerns have recently been heightened by an air-drop reported by the United Nations.
This is said to have been a north Sudanese plane providing weapons to the rebels - an allegation Khartoum regularly denies.
A European Union mission which visited the area on Thursday met with 40 Murle chiefs.
The mission urged the security forces to respect civilians and for all parties to find a peaceful solution to the conflict.
Late last year thousands of Nuer tribesmen attacked Murle in and around Pibor, killing at least 150 people and forcing tens of thousands to flee.
Clashes over cattle and women are a regular occurrence in this remote area of South Sudan.