Analysis: What next in Kismayo?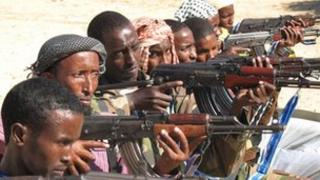 As Kenyan troops begin - perhaps with more caution and less speed than they initially declared - to attack the vital Somali port city of Kismayo, the first big question is this:
Will al-Shabab, reluctant to lose their last major urban foothold in Somalia, try to hold on to the bitter end and turn the city into another ruin like Mogadishu, or will they - and I suspect this is more likely - try to hang on just long enough to give the Kenyans a bloody nose and film some impressive battle footage for their websites, then melt into the surrounding countryside?
If it comes to a long urban battle, al-Shabab have all the experience and motivation, while the untested Kenyans may find themselves forced to wait for other African Union troops to fight their way down the coast to do the hard work in Kismayo.
But assuming al-Shabab leave the port within the next day or two, the next question is: Where do they go?
Will they be satisfied with an expanded version of the suicide-and-roadside-bomb tactics they're now employing - with limited impact - in Mogadishu; will they seek to hang on to as much of southern Somalia's countryside as possible; or will they seek to push further south, across the border into Kenya and muddy the already tense pre-election waters along the coast there?
All three perhaps. Right now the Kenyan security forces must surely be on high alert for a Kampala-style revenge attack, perhaps in Nairobi.
Kismayo is obviously a big test for Somalia's new President Hassan Sheikh Mohamud in Mogadishu, but the timing could be a lot worse.
The African Union forces, known as Amisom, are somewhat better co-ordinated these days as they push into the countryside.
And the new Somali government has more legitimacy, and perhaps a better chance of filling the inevitable "post-liberation" power vacuum in Kismayo.
Still, it could be a messy affair, with neighbours Kenya and Ethiopia both likely to be seeking influence in the process through their local militia proxies.