Corrie Sanders: Zimbabweans held over boxer's murder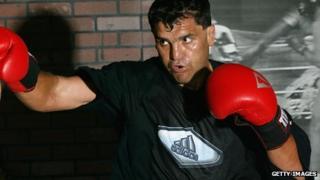 South African police have arrested three Zimbabweans in connection with the murder of former heavyweight world boxing champion Corrie Sanders.
The 46-year-old South African boxer was shot during an armed robbery while attending a family celebration over the weekend near the capital, Pretoria.
Police said goods stolen during the robbery, including a mobile phone, hand bag and car key, were also found.
The boxer was nicknamed "The Sniper" because of his famous left-hand punch.
He pulled off one of boxing's major shocks when he beat Wladimir Klitschko to win the WBO heavyweight title in 2003.
He retired in 2008, having won 42 of his 46 fights.
The three Zimbabwean suspects were arrested in an informal settlement near Brits - about 45km (28 miles) north-west of Pretoria - after a tip-off, police spokesman Brigadier Thulani Ngubane said, according to the South African Press Association.
The former champion was attending his nephew's 21st birthday party when gunmen entered the restaurant in Brits.
He was shot in the arm and stomach and died of his wounds in the early hours of Sunday morning.
The Zimbabweans - one aged 19 and two aged 20 - are due to appear in court on Monday to be charged with murder and armed robbery, police said.