Libyan army removes heads of Benghazi militias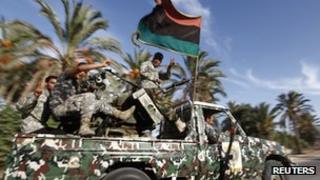 Libya's army has removed the heads of two of Benghazi's main militia groups, as it tries to reassert control over armed groups or disband them.
The February 17 Brigade's Fawzi Bukatif and Rafallah al-Sahati's Ismail al-Salabi were replaced by colonels.
Last week saw demonstrations against armed groups in Benghazi following this month's killing of the US ambassador.
Islamist militants have denied being behind the attack, but the killing sparked widespread fury in Benghazi.
Ambassador Christopher Stevens and three others Americans died during an attack on the city's US consulate on 11 September, which coincided with protests over an anti-Islam video produced in the US.
'Stop using violence'
The Islamist Ansar al-Sharia group was driven out of its headquarters in Benghazi over the weekend in unrest which left at least 11 people dead.
Meanwhile two militant groups based in the Islamist stronghold of Derna - a port city to the east of Benghazi - disbanded on Sunday.
Libya's interim leaders have taken advantage of the wave of popular sentiment in order to bring the unauthorised groups under control, analysts say.
The government has relied on some brigades to help provide security in post-Gaddafi Libya, analysts say, and many will be watching to see how the authorities undertake the mammoth task of gaining full military control over the country.
"[We want to] dissolve all militias and military camps which are not under the control of the state," Mohammed Magarief - the parliamentary speaker who acts as head of state until elections next year - said on Sunday.
"We call on everyone to stop using violence and carrying weapons in the streets and squares and public places."