Mali agrees to host anti-Islamist Ecowas force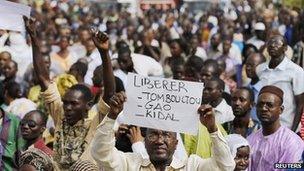 The West African state of Mali has agreed to host a regional military deployment aimed at dislodging radical Islamists in control in the north.
UN backing for the force is being sought by the Malian government and the West African regional body Ecowas.
Militant Islamists captured northern Mali in April, prompting fears of instability across the region.
Mali was initially opposed but has now agreed to host the 3,000-strong force in the capital, Bamako.
After intense regional diplomatic efforts, the authorities have given the green light for a logistical base on the outskirts of the city, BBC West Africa correspondent Thomas Fessy reports.
Mali's interim President Dioncounda Traore was known to be unhappy about foreign troops being posted in the capital.
On Monday France - which has offered to provide logistical support for a West African-led operation - said Mali had formally requested the approval of the UN Security Council for such a force.
'Serious rights violations'
Islamists seized control of the north of the country, taking advantage of chaos that followed an army coup in March.
Sharia law has been implemented in the towns of Timbuktu, Kidal and Gao and ancient shrines deemed idolatrous have been destroyed.
On Friday, the UN Security Council expressed its concern about the "increasing entrenchment of terrorist elements including al-Qaeda in the Islamic Maghreb (AQIM) and affiliated groups" in northern Mali.
UN Human Rights Commissioner Navi Pillay has spoken of serious human rights violations and "possibly war crimes".
Although civilian rule has been restored in Bamako, the security council complained that former coup leaders were trying to interfere in the actions of Mali's interim government.
The request for 3,000 troops to help defeat the Islamists and regain control of the north will be considered during a meeting chaired by UN Secretary General Ban Ki-moon on the sidelines of the United Nations General Assembly on Wednesday.
Before the deployment can go ahead, it will need a mandate from the security council, which earlier rejected an intervention plan because of a lack of detail.
Some neighbouring countries, such as Algeria, oppose a military intervention in Mali, our correspondent says.
Related Internet Links
The BBC is not responsible for the content of external sites.