South African charges aimed at gagging Malema - lawyer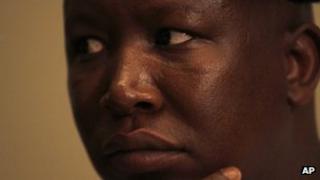 South African politician Julius Malema's lawyer has said charges against her client are politically motivated and aimed at silencing him.
Niqui Galaktiou told the BBC that neither she nor Mr Malema had seen the warrant issued against him, which was reported on Friday.
Details of the charges have not been given but Mr Malema has been under investigation for corruption.
Mr Malema, 31, is a fierce critic of his former ally, President Jacob Zuma.
He most recently attacked Mr Zuma over his handling of the Marikana miners' strikes, which descended into bloodshed between strikers and police.
Mr Malema strongly denies allegations that he profited from government contracts in his home province of Limpopo.
'Assassination plot'
Ms Galaktiou said on Thursday she had received notice that a warrant had been issued against her client but had been given no details.
Speaking to the BBC World Service, she said: "We believe that it is politically motivated.
"Mr Malema spoke publicly a few days ago [saying] that we have received reliable information from various sources to say that they wanted to silence him, assassinate him or incarcerate him.
"We've subsequently addressed very high-level authorities in South Africa and placed it on record that this is politically motivated."
South Africa's City Press newspaper said on its website that the charges against Mr Malema were money-laundering, corruption and fraud.
The warrant, it added, relates to a family trust and its shares in a company that has earned millions from government tenders.
Mr Malema, known for his fiery rhetoric, was expelled as head of the Youth League of the governing African National Congress (ANC) in April but recently held several rallies in the Rustenburg mining area.
He has been calling for a national strike and has accused President Zuma of ignoring the plight of poor black South Africans.