Ivory Coast closes Ghana border after deadly attack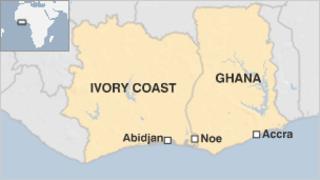 Ivory Coast has closed its border with Ghana after several people were killed in an attack on an army checkpoint.
Ivorian Defence Minister Paul Koffi Koffi said "armed elements from Ghana" carried out the attack in the border town of Noe.
At least five attackers died and others fled back over the border, he added.
Ivory Coast has blamed previous attacks on its security forces on supporters of ex-President Laurent Gbagbo, some of whom are in exile in Ghana.
The closure affects the nearly 700km (450-mile) land, sea and air border with Ghana until further notice, Mr Koffi Koffi said, reading a statement from President Alassane Ouattara's office on public broadcaster RTI.
"Around 03:00 [Friday] the position of the [government forces] at the Noe border post was attacked by armed elements from Ghana," he said.
"After a shoot-out five assailants were killed and five arrested. The other assailants withdrew to Ghanaian territory."
One soldier was slightly injured, he added.
Hours earlier, at least three people were killed when armed men attacked three police stations south of the commercial capital Abidjan, officials said. It is not clear whether the two incidents are linked.
'Frank co-operation'
Ghanaian President John Dramani Mahama promised during a recent visit to Abidjan that his country would not become a base for those trying to destabilise Ivory Coast.
Mr Koffi welcomed what he called "frank co-operation" between officials in Ivory Coast and Ghana.
In August, Ivorian ministers blamed Gbagbo loyalists based in Ghana for attacks in Abidjan that killed 10 soldiers.
Ivory Coast is recovering from months of unrest after a disputed election.
Some 3,000 people died in fighting that followed the November 2010 poll.
Mr Gbagbo refused to accept defeat to President Ouattara, who eventually ousted his rival with the help of former rebel forces, the UN and former colonial power France.
Mr Gbagbo is currently in The Hague, awaiting trial at the International Criminal Court on charges of crimes against humanity.