Bombed Somali cafe owner: 'I will not give up'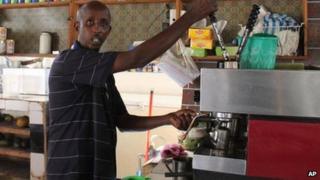 Two suicide bombers in Mogadishu targeted a popular restaurant in the Somali capital on Thursday evening, killing about 14 people.
Ahmed Jama, the owner of the Village restaurant, returned to the city four years ago from the UK to go into business - one of many expatriates to go home to help rebuild their war-ravaged country.
He tells the BBC about the attack, his decision to return home and his hopes for the future.
Ahmed Jama:
Basically I can't believe the things that have happened.
I can't cry, but I feel the pain.
I feel sorry for myself and for all these colleagues and friends who have gone.
The attack happened at about 10 minutes after 6pm in the evening before the prayers.
One of the suicide men was in the restaurant wearing a vest - the other man was with a gun and he opened fire outside, killing the guy washing cars - at this time the guy in the coffee shop went to the table where the cashier and coffee were and he blew himself up.
Outside, everyone was trying to run to get somewhere to hide from the man with the gun and they had come inside the building - he then dropped the gun, followed them in and blew himself up with a grenade.
More than 15 people died and more were wounded - it is not something you expect.
But I feel the authorities have let me down big time. I feel like they [the politicians] only care for themselves.
I employ over 100 people in three restaurants mainly in Mogadishu, [I have one in London].
This restaurant where the explosion happened is in the centre near the Somali National Theatre.
For the other restaurant in Mogadishu [on the beach front] I have my own security to look and check people coming in and going out.
But for this one because of its location I did not have permission to have my own.
I asked the police and mayor myself - I said I need someone to look and watch for the security and no-one answered me back.
They told me they have the police nearby as they are renovating the building above the restaurant. They did not listen when I said it was not enough security.
'Come back'
I came back to Mogadishu in 2008. I had gone to the UK in 1989, in November. One of the places I lived was in Birmingham - that's where I went to college in the West Midlands.
I studied catering at college to become a chef. I worked in Birmingham and then moved to London for more work and experience for my CV - and then opened several restaurants.
I decided to go back and do something in my homeland because it was time to give back something - I was trying to show people that if I can go myself, they can come with me.
My family still lives in London - my wife runs the restaurant in Fulham [also called the Village] - my children live there too.
I asked them to stay but they didn't listen to me.
I have spoken to my wife [since the attacks] - actually she called me, I didn't call her.
They invite me to come back - they say: 'Don't stay over there.'
But, you know, I started something and I want to finish it - that's my destiny.
Maybe I'm going to be one of those the people will remember -and I don't want to live without my ambitions.
I will open the restaurant again - I will try and I'm not going to give up.
My decision was to do something and as long as I live, I will continue - I'm a business guy with restaurants and I'm going to continue with that.
I didn't have family working in the restaurant [as reported] but all the Somalis and all the people here are my family, my own people and fellow countrymen.
I can't go back in time - so now I'm trying to be strong.