South Africa's Marikana miners return to work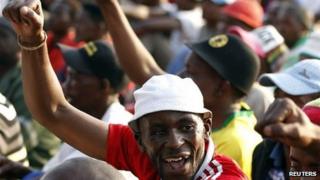 Miners in South Africa are returning to work at the Marikana platinum complex, which was the scene of violent protests in which 46 people died.
Striking miners reached an agreement with owners Lonmin on Tuesday. It will see their salaries rise by up to 22%.
Lonmin is hoping to recover some of the big losses it incurred during the six-week stoppage.
An investigation is under way into the deaths of the miners, 34 of whom were shot by police.
The strikes have spread to other mines in South Africa, one of the world's biggest producers of precious metals.
Miners were to receive a pay increase of between 11% and 22% depending on worker category - higher than the 5% inflation rate but far less than they had been demanding.
"We're happy to go to work. We got what we wanted," Yandisa Mehlo told the AFP news agency.
But another one, Phumlile Macefane, said: "I return to work because I'm so hungry.
"I'm unhappy because I can't get 12,500 [rand]. My brothers are dead, were killed by the police."
Troop deployment anger
On Monday, President Jacob Zuma said the disruption had cost the industry $548m (£337m) in lost output.
On Wednesday, police fired rubber bullets and tear gas to disperse protesters near a mine owned by Anglo American Platinum (Amplats), the world's largest platinum producer, raising fears that the Marikana pay deal could encourage other miners to go on unofficial strikes.
Amplats re-opened its mines on Tuesday after they were closed last week.
Last week, the government announced it would clamp down on the protests, which had seen large crowds of strikers wielding machetes and clubs going from mine to mine in the Rustenberg platinum mining area, trying to enforce their strike.
A woman died this week after being hit by a rubber bullet on Saturday, while a man was beaten to death last week.
Several days before the police shot dead 34 miners, 10 people, including two police officers, were killed during violent protests.
Meanwhile, opposition parties have reacted angrily to the deployment on Saturday of about 1,000 troops to Marikana.
They say the president was constitutionally obliged to inform the country before deploying the military.
A backdated notice has since been issued by the Ministry of Defence to legalise the move.
A statement from the president's office on Thursday said the soldiers were to support the police force until 31 January 2013 in the "prevention and combating of crime as well as the maintenance of law and order in the Marikana area… and other areas around the country where needed".
The Marikana miners had been demanding a monthly salary of 12,500 rand ($1,513; £935) - they currently earn between 4,000 and 5,000 rand.
As well as a pay rise, they will get a one-off payment of 2,000 rand to help cover the weeks of not being paid while they were on strike.
Some 15,000 miners at Gold Fields' Dreifontein Gold Mine remain on strike.
South Africa hold about 80% of the world's known platinum reserves and is the fourth biggest gold exporter.
The unrest - and the police shooting - have increased pressure on President Zuma, with some such as firebrand youth leader Julius Malema accusing his government of not doing enough to help poor black workers.