DR Congo M23 rebels have 'de facto administration'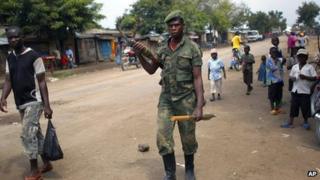 Rebels in eastern Democratic Republic of Congo have set up a "de facto administration", the head of the UN's peacekeeping operations has said.
Herve Ladsous said the M23 group - formed of soldiers who mutinied in April - are controlling populations and taking taxes.
The UN accuses neighbouring Rwanda of supporting the M23 - an allegation Kigali has repeatedly denied.
More than 200,000 people have been displaced in this year's unrest.
A high-level meeting to discuss the crisis is expected to be held during the UN General Assembly in New York next week.
"M23 elements are concentrated in a corner of the eastern Kivu, which is next to the borders of Rwanda and Uganda," Mr Ladsous told reporters after briefing the UN Security Council.
"They are already establishing a sort of de facto administration, controlling population, taking 'taxes' from people who pass through and that... is hardly acceptable," he said.
Meanwhile, the Congolese authorities are seeking an embargo on the trade in minerals from Rwanda, Reuters news agency reports.
Analysts say most minerals exported from Rwandan are likely to have originated in DR Congo and been mined by rebel groups accused of links to Rwanda.
"To put an end to this situation, one of the solutions would be to impose an embargo on all minerals coming from Rwanda, until the establishment of a lasting peace in the provinces of North and South Kivu," DR Congo's Mines Minister Martin Kabwelulu said in the letter seen by Reuters.
It was addressed to the US Securities and Exchange Commission.
The agency says a similar letter has been sent by Mr Kabwelulu to the UK calling for companies to stop buying Rwandan minerals.