Benghazi defiant after US consulate attack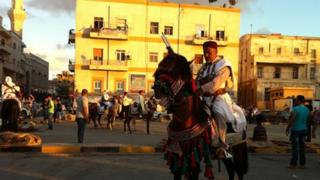 Last week's killings of Ambassador Chris Stevens and his staff sent shockwaves through a country that has just held its first democratic elections and is trying to rebuild its relations with the outside world.
At this weekend's Martyrs' Day celebrations in Benghazi, they celebrated as only Libyans know best - with guns. Tribal horsemen fired shotguns into the ground and showed off their prowess at controlling their steeds as they bolted.
Others, mainly widows and children, held aloft portraits of loved ones killed during last year's fighting. In the city where the uprising against Muammar Gaddafi began, there are reminders everywhere of the huge sacrifices these people made to win their freedom.
And, in a country awash with guns, powerful militias still refuse to surrender their weapons - among them the ultra-conservative Islamists from Ansar al-Sharia.
They were accused, by some, of being involved in the assault on the US consulate.
While they acknowledge some of their members may have protested against the depiction of the Prophet Mohammed in a tawdry American-made B movie, they emphatically deny any role in killing Ambassador Stevens.
Rejecting democracy
In the group's first interview with a Western broadcaster, Sheikh Mohammed Zahawi said he did not understand why so many tears were being shed over the death of a diplomat when the "real crime" was the insult to Muslims over the film, Innocence of Muslims.
Justifying the group's decision not to hand over its guns he said: "The battle is not yet over. There are many Gaddafi loyalists in the new administration."
Perhaps more ominously, Ansar al-Sharia say they sympathise with other militant organisations, including al-Qaeda, and completely reject the imposition, as they see it, of democracy in Libya.
"We don't believe in the democratic system because even those who live in such systems know it's a fake. We want to tell the world that the democratic project doesn't suit us and doesn't suit Islam," said Sheikh Mohammed.
Later, I joined a large, noisy police convoy as it drove through Benghazi's poorer districts. The police are still regarded with some suspicion by people here and searching for those responsible for the consular attack is like looking for a needle in a haystack.
The authorities say they have already identified or arrested about 50 people in connection with the attack but they have not said who they are or what evidence they have against them.
Other officials admit that with such porous borders and weak central control over the armed groups, the perpetrators may have already fled across Libya's open desert borders.
Building ambitions
The president of Libya's new interim Assembly is Mohammed Magarief. In an interview with the BBC at his plush but well-guarded Benghazi home, he was adamant that last week's attack will not derail or alter the programme for change.
"Our struggle, our stand against these groups will be successful," he said. "We believe that the majority of Libyans are against them. All sectors of society are against this."
Then there is the impact of all this instability on Benghazi's ambitions to rebuild. I visited a sprawling, half-built new town for 200,000 people on the outskirts of Benghazi. Half-finished towerblocks stretch as far as the eye can see across the otherwise featureless desert plain.
The site was abandoned last year by its Chinese developers at the start of the uprising against Gaddafi. They and other foreign investors have yet to return.
"Re-establishing our relationship with foreign investors is crucial, and the situation now is negative," says Zahi Mogherbim, a professor at Benghazi university.
Somewhat phlegmatically he adds: "Many of the foreign companies and missions will be hesitating to come back to Benghazi and it seems that sometimes we are shooting ourselves in the foot!"
People still chill out on Benghazi's famous seafront, despite the renewed concerns about security.
After remarkably smooth and successful elections earlier this summer, it is clear that the overwhelming majority of Libyans clearly support their democratic project but a handful of radical and committed Islamist militants could still spoil everything.