South Africa: Julius Malema rides public anger in style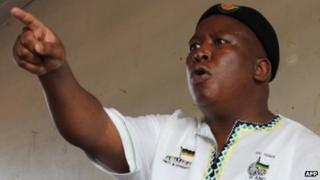 A handful of disgruntled soldiers, a fiery political outcast, and a small community hall in an anonymous suburb outside Johannesburg.
It sounds like the opening of a dull but earnest play.
So why did dozens of journalists, cameras and even a satellite truck pitch up in Lenasia on Wednesday - at a time when South Africa is engulfed in so many very real dramas - to hang on every word of Julius Malema, the former leader of the youth wing of the governing African National Congress, who was recently expelled from the party, and is now under investigation for alleged fraud and corruption?
Could it be that the media has simply fallen under the spell of Mr Malema's admittedly entrancing blend of swagger, fire and endlessly quotable provocations?
Or should we blame the South African military, which transformed a minor event into a national scandal by putting all its bases on high alert for the first time in its democratic history?
And on that point - can anyone think of a more ludicrous, panicky, counter-productive example of official over-reaction?
It is tempting to argue that we journalists should ignore the whole Malema roadshow. After all - following last month's killings at the Marikana platinum mine - labour unrest is spreading across the industry.
The government and ANC are struggling to contain the crisis or articulate any sort of coherent response. Why should one politically marginalised man deserve any attention?
'Banana dictatorship'
The most obvious answer is that Mr Malema seems to be one of the few public figures now articulating the frustration felt by so many poor and marginalised communities in South Africa.
He may be an opportunist, and a brazen populist. But he is filling an extraordinarily large vacuum of silence left by the country's more mainstream leaders.
And he is - no matter what you think of his politics - an increasingly eloquent, energetic and passionate orator.
But there is more to his current appeal.
Right now South Africa's political elites and factions are furiously busy plotting ways to defend or get rid of President Jacob Zuma.
It is a frenzy that will reach its climax in December at the ANC's elective conference.
Almost all of that plotting - in which the security services are reported to be playing an active role - is taking place behind closed doors.
In public, everyone is still trying to pretend that they are best friends. Except for one man.
Mr Malema's immediate motives - his need to get rid of Mr Zuma and to engineer his own return to the ANC - are obvious.
It is no secret that he's working with, or on behalf of other factions eager to see the back of the current president.
And so, while his colleagues are in the proverbial cellar, fighting in the dark under a rug, Mr Malema is striding round the garden with a megaphone and a can of petrol - loudly calling the president a bribe-taking crook running a banana dictatorship.
How could any journalist resist?
All this political squabbling is, of course, largely beside the point, when it comes to addressing South Africa's labour crisis and the widening gap between rich and poor.
Most of the feuding within the ANC seems to be about power for power's sake. That is the country's bigger calamity.
In that context, Mr Malema can at least point to his own fairly consistent, radical economic agenda - however populist, and damaging it may ultimately prove.