Zimbabwe's Tsvangirai set to marry after court victory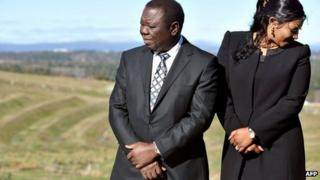 A court in Zimbabwe has thrown out a bid by a woman to block Prime Minister Morgan Tsvangirai's wedding on Saturday to his fiancee, Elizabeth Macheka.
Locadia Tembo had argued that the wedding could not take place because she was herself Mr Tsvangirai's wife under customary law.
But High Court Judge Antonia Guvava ruled such marriages were not valid.
Some analysts say it is part of a political dirty tricks campaign to smear the prime minister's reputation.
But others say he only has himself to blame as he has been involved with a number of women since his wife died in a car crash soon after he became prime minister in 2009.
The BBC's Brian Hungwe in the capital, Harare, says another woman, Nozipho Shilubane from South Africa, filed papers on Thursday at a magistrates' court in an attempt to stop Mr Tsvangirai's marriage.
She says she became engaged to Mr Tsvangirai in South Africa and that he promised to marry her. The case will be heard on Friday.
President Robert Mugabe, who is in a fractious coalition with Mr Tsvangirai, is due to attend Saturday's wedding.
Our reporter says the ceremony is expected to take place in an upmarket area north of Harare.
Mr Mugabe is due to host a post-wedding banquet for other heads of state who will be there, he says.
Mr Tsvangirai, 59, and Mr Mugabe - the leaders of the Movement for Democratic Change (MDC) and Zanu-PF respectively - are expected to run against each other in presidential elections, due next year.
'Matrimonial property'
The case brought by Ms Tembo, a 39-year-old commodity trader and sister of an MP from Zanu-PF, was heard in chambers in the High Court in Harare.
The judge ruled that marriages under customary law were not valid, except for certain purposes such as the distribution of matrimonial property.
He also said the case should have been dealt with by a marriage officer at a magistrates' court.
Ms Tembo's lawyer, Everson Samkange, said he would now lodge a further objection to the marriage with the court, which could lead to a commission of inquiry if the case went ahead.
But Mr Tsvangirai's lawyer, Innocent Chagonda, said he welcomed the fact that "legal impediments" had been removed ahead of the wedding.
"There was no basis upon which [Ms Tembo] could have interdicted the prime minister from getting married," he said.
"An unregistered customary law marriage is not a valid marriage at all. It is valid for only certain purposes which have nothing to do with what we have been talking about."
Ms Tembo, a businesswoman, has been demanding $15,000 (£9,310) a month in maintenance expenses from the prime minister.
"Generally those I have met have dismissed that because in reality you don't spend that much... generally it has been taken as a political attempt to discredit the prime minister," John Masuku from Voice of the People radio told the BBC's Newsday programme.
Mr Tsvangirai's 35-year-old bride is the daughter of Zanu-PF loyalist and former Chitungwiza mayor Joseph Macheka.
In November, reports said Ms Tembo and Mr Tsvangirai held a traditional wedding, and Mr Tsvangirai had paid a bride price of several hundred thousand dollars.
Shortly thereafter, Mr Tsvangirai said their relationship had been "irretrievably damaged" after it was "hijacked" by his opponents, including state security agents.