DR Congo M23 rebels 'executing escapee recruits'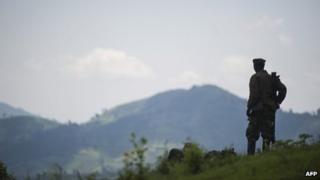 Rebels in eastern Democratic Republic of Congo have been accused of fresh atrocities, including the execution of recruits trying to escape rebel ranks.
A spokesperson for Human Right Watch told the BBC that one woman had been gang-raped by M23 rebels, doused with petrol and then set alight.
The lobby group said its evidence was based on interviews with 190 witnesses.
It called for the UN to put sanctions on the rebels and officials in Rwanda, which is accused of backing them.
The government in Kigali has repeatedly denied supporting the Tutsi-led rebellion which began as an army mutiny in April and has since displaced more than 200,000 people in the region.
Eastern DR Congo has been plagued by fighting since 1994, when more than a million ethnic Hutus crossed the border into DR Congo following the Rwandan genocide, in which some 800,000 people - mostly Tutsis - died.
Rwanda has twice invaded its much larger neighbour, saying it was trying to take action against Hutu rebels based in DR Congo.
'We need arrests'
Human Rights Watch said it had documented the forced recruitment of at least 137 young men and boys since July and the execution of 33 recruits who had tried to escape.
"We've also of course been documenting again cases of rape, of women and girls and deliberate targeting of civilians," Anneke Van Woudenberg told the BBC's Newshour programme.
"There's one story for me that stands out which was a woman who described to us how the M23 combatants broke down her door, took her 15-year-old son, killed him, abducted her husband and then gang-raped her.
"Before they left they poured petrol between her legs and lit it on fire. She managed to survive but many others have not."
One of the leaders of the M23 group includes Gen Bosco Ntaganda, who is wanted by the International Criminal Court for alleged war crimes.
Human Rights Watch again called on donor countries to urgently review their aid to Rwanda.
Some have already suspended aid in the last few months, but in one of his last acts before a recent UK government reshuffle, outgoing development minister Andrew Mitchell said he was re-instating the money from Britain.
Mr Mitchell said this was because Rwanda had engaged in peace moves in DR Congo and the UK wanted to run aid programmes in Rwandan schools and for poor farmers.
"We need to see arrests, we need to see sanctions and frankly we need to see donor governments who continue to provide substantial amounts of aid to Rwanda examine their programmes and make sure no money is going to the military to continue to support these kinds of abusive rebels," Ms Van Woudenberg said.