Julius Malema calls for full South Africa mining strike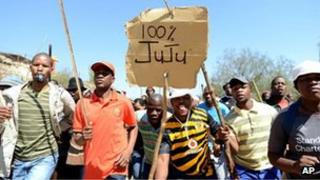 Firebrand politician Julius Malema has called for a national strike in South Africa's mines.
"They have been stealing this gold from you," Mr Malema told cheering miners on strike at a gold mine west of Johannesburg, "now it's your turn."
Strikes have already halted production at several gold and platinum mines in the resource-rich country.
But some accuse Mr Malema of political opportunism amid seething anger over last month's deaths at Marikana mine.
Forty-four people died at the Lonmin-owned platinum mine in mid-August - 34 miners shot in a single day by police.
A commission of inquiry is looking into events at that mine, but observers say the issue is tapping into disquiet over the ruling ANC's links to big business and alleged neglect of the working classes that have made up its historical support base.
Outcast
"There must be a national strike," Mr Malema told workers on strike at the Gold Fields International KDC, at a stadium in Carletonville, close to its gold mine.
"Enough is enough. We have waited for a long time. You must now benefit from this gold."
His speech was punctuated by cheers, whistles and the blowing of vuvuzelas (plastic horns), said reports from the scene.
Mr Malema is a political outcast, expelled from the ruling ANC and under investigation for alleged corruption, says BBC Africa correspondent Andrew Harding.
But he is continuing to make waves in South Africa - articulating the anger of many following last month's killings.
Mr Malema's fiery rhetoric is hugely popular, especially given the relative silence from other quarters, our correspondent says.
There is concern that industrial unrest may be spreading, with the strike continuing at Marikana and now a reported 15,000 workers on strike at Gold Fields - the second strike at the mine in as many weeks.
The Cosatu trade union federation allied to the ANC, criticised Mr Malema's call for a national strike, saying he was "inflam[ing] tensions within the mining industry, flames which he is quite incapable of quenching".
The strike at Marikana was called by a new union, not affiliated to Cosatu.
On Tuesday, Lonmin condemned "ongoing threats and intimidation" it said were keeping Marikana mine closed, Associated Press reported.
Behind the scenes, negotiations continue over the 12,500-rand (£950; $1,500) monthly wage demanded by the miners, a sharp rise from their current pay of 4-500 rand.
"It's business as usual," a striking miner told our correspondent on Tuesday. "We just want more money. That's all."