Libya clashes break out over Sufi shrine attack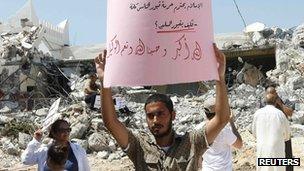 Three people have been killed in clashes in Libya between local residents and Islamic extremists trying to destroy a Sufi shrine, the interior ministry says.
Officials said residents in the eastern town of Rajma clashed with Salafist Islamists who were trying to destroy the Sidi al-Lafi mausoleum.
It is the latest in a series of attacks on shrines belonging to the mystical Sufi branch of Islam in Libya.
Many Islamists view Sufis as heretics.
In Rajma, 50km (31 miles) south-east of the city of Benghazi, witnesses said armed local residents fought off Salafist extremists who were trying to destroy the mausoleum.
"The clashes left three people dead and several more wounded on both sides," Deputy Interior Minister Wanis al-Sharif told AFP news agency.
He said Libyan security forces had brought the situation under control and dispersed the crowd with help from local tribal chiefs.
Earlier this month, two Sufi shrines in Zlitan and the capital Tripoli were destroyed in attacks also blamed on ultra-conservative Islamists.
Such attacks have increased since the end of the eight-month civil war that toppled Col Muammar Gaddafi, as the authorities struggle to control lawlessness.
Last week, Libyan Interior Minister Fawzi Abdelali resigned after Congress criticised his handling of the violence.