South Africa's Marikana miners freed after charges dropped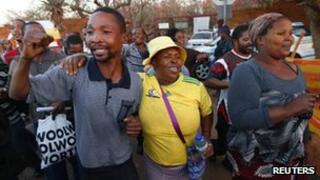 The second and final batch of South African miners has been freed after controversial murder charges were dropped following a national outcry.
The 106 miners are set to return to the Marikana mine, where police shot dead 34 striking workers last month.
A militant union has refused to sign a "peace accord" with the government and mine owner Lonmin, insisting that it will remain on strike until its pay demands are met.
Another union has signed the deal.
But the strike was called by the militant Association of Mineworkers and Construction Union (Amcu) and so its refusal to sign the deal means it is unlikely to make much difference, analysts say.
The National Union of Mineworkers (NUM), which is allied to the ruling African National Congress (ANC) party, signed the accord, brokered by church leaders.
It commits miners to return to work on Monday, ending a strike that started on 10 August.
Firebrand South African activist Julius Malema had been due to address the miners later but this has now been cancelled due to heavy rain, which has turned much of the area into a quagmire forcing most of the miners to remain indoors.
'Group of thugs'
Mr Malema, who was expelled from the governing African National Congress earlier this year for indiscipline, had earlier called for striking workers to make the mines ungovernable, but he told the BBC's Newsday programme that he was not calling for violence.
"People are just being sensational about the word 'ungovernable'. I mean, they must put down their tools. I'm not calling for violence. I'm not calling for killing of anybody," he said.
"Workers must refuse to sell their labour. Enough is enough, unless capital is prepared to pay enough living wage."
Earlier the South African government said it would not tolerate any incitement to violence or what it called unwarranted provocation.
Mr Malema said foreign investors had "stolen everything in this country - we are prepared to do everything to get back what belongs to us".
He said the only answer was nationalisation of the mines.
"Let's take our resources. Let's pay mineworkers. Let's build schools for our children. We do not call for wholesale nationalisation - we call for a majority sharehold by the state, with the participation of the private sector," he added.
Mr Malema, the former head of the ANC Youth League, was a close ally of President Jacob Zuma but the pair have fallen out over a number of issues.
Mr Malema has accused the president of ignoring the plight of poor black South Africans since he came to power in 2009.
In the BBC interview, he also delivered a warning to the ANC, saying it had been "hijacked by a group of thugs - there for themselves and their families".
He said he would "take it back into its rightful place - the hands of the people".
His critics say he has been "walking on the bodies" of those killed in Marikana to reignite his political career.
Judicial inquiry
The decision to charge 270 miners arrested during the protests under an apartheid-era law triggered a national outcry and the charges were dropped.
The first group of 162 detainees was freed on Monday - some accusing the police of shooting dead protesters who were begging for their lives or trying to flee.
Two of the arrested miners are still getting medical treatment in hospital but they are set to be freed soon.
A judicial inquiry has been appointed to investigate the incident.
A spokesman for the Independent Police Complaints Directorate, Moses Dlamini, told the Associated Press news agency that the directorate was investigating all allegations lodged with it and would report its findings to the commission of inquiry established by President Zuma.
The miners, who say they are currently earning between 4,000 rand (£300; $475) and 5,000 rand a month, want their salary increased to 12,500 rand.