Nigeria mobile phone masts targeted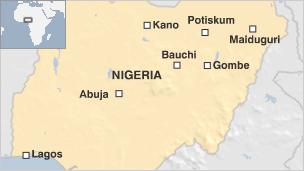 At least 24 mobile phone masts have been attacked across northern Nigeria, industry officials say.
The militant Islamist group Boko Haram said it had carried out the attacks on nine mobile phone companies - the first time they have been targeted.
Boko Haram had threatened to launch such attacks, accusing the mobile phone firms of helping security agencies to monitor its members.
Experts say the damage could run into millions of dollars.
Gunshots and explosions were heard and fires raged as mobile phone masts were targeted in northern Nigeria's main city, Kano, as well as the cities of Maiduguri, Gombe and Bauchi.
An attack also happened in the town of Potiskum.
"We decided to launch attacks on masts of mobile telecom operators as a result of the assistance they offer security agents," said an email from the group's spokesman, Abul Qaqa, according to AFP news agency.
This information helps Nigerian security forces "in arresting our brethren", the statement added.
Nine companies had reported infrastructural damage to 24 masts since Wednesday, said Gbenga Adebayo, the chairman of the Association of Licensed Telecommunications Operators of Nigeria, AP news agency reported.
Companies targeted include South African telecom giant MTN as well the United Arab Emirates firm Etisalat, AFP said.
"We confirm that like all the other major telcos, some of MTN's installations in northern Nigeria have been damaged by unknown persons," spokeswoman Funmilayo Omogbenigun was quoted as saying prior to Boko Haram's statement.
Experts say the damage is like to run into millions of dollars as the cost of a single tower can exceed $1m (£627,000).
Boko Haram launched a military campaign in 2009 to fight for Islamic rule, bombing government buildings, churches and assassinating moderate Muslim clerics.
In February, it threatened to attack Nigerian telecom companies.
It accused them of breaking their "ethical obligations" and helping the security forces to monitor and track down its members.
Nigeria is roughly divided between a mainly Muslim north and predominately Christian and animist south.