Meles Zenawi: Ethiopia to build mausoleum for late leader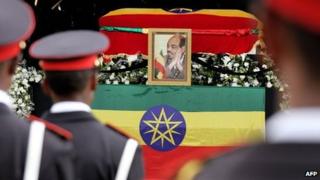 Ethiopia has announced it will build a mausoleum to commemorate the life of former leader Meles Zenawi, who was buried on Sunday.
Acting Prime Minister Hailemariam Desalegn said the building would include a library and an exhibition of Meles' life and achievements.
Thousands of people, including dozens of foreign leaders and dignitaries, attended Sunday's funeral.
The ex-prime minister died last month in Brussels after 21 years in power.
The cause of the 57 year old's death has not been announced.
He was praised for bringing development to Ethiopia, which has long been associated with hunger and famine.
However, he was criticised for cracking down on opposition parties, the media and civil society groups.
The government has also set up a website in his honour.
Mr Meles' flag-draped coffin was carried from his palace in the capital Addis Ababa to the city's Meskel Square for a ceremony, then buried at the Holy Trinity Cathedral.
Leaders including South Africa's Jacob Zuma, Benin Boni Yayi representing the African Union and US ambassador to the UN Susan Rice praised Mr Meles.
"He wasn't just brilliant, he wasn't just a relentless negotiator and a formidable debater, he wasn't just a thirsty consumer of knowledge - he was uncommonly wise, able to see the big picture and the long game, even when others would allow immediate pressures to overwhelm sound judgement," said Ms Rice.
Mr Meles was a close Western ally and twice sent troops into neighbouring Somalia to tackle Islamist militants.
Mr Hailemariam is to remain prime minister until the next elections, due in 2015.